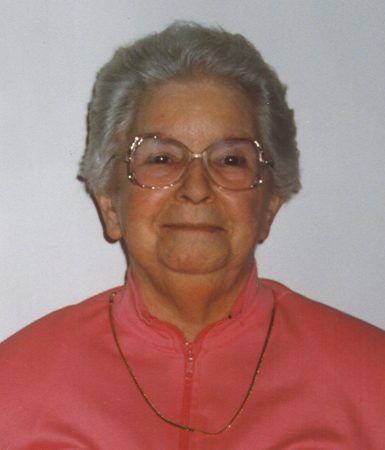 Sister
Mary Alice MacDonald
Life Story & Obituary
May 27, 1916 – December 11, 2005
"My religious life has been anything but monotonous," wrote Sister Mary Alice MacDonald during her fourth apostolate.
From her earliest years, her life was marked by variety, creativity, and exuberance.
Born in Detroit on May 27, 1916, the fourth of eight children of Ronald and Marion MacDonald, Mary Alice spent much of her early life in Saginaw. At the age of eight, she took Scottish dancing lessons and with two brothers and a sister formed a Scottish dance team that performed in many schools. Her education was at St. Andrew School, Saginaw, with the Sisters of Mercy. There she was active in dramatics and on the school newspaper and yearbook.
For two and a half years after graduation, Mary Alice did secretarial work, unable to follow her vocation to the convent until her health improved. Then she joined the Grand Rapids Dominicans, to whom she was attracted through her cousin, Sister Fabian MacDonald, and others she met when the dance team performed in their schools. She entered the community in June 1937 and at reception was given the name Mary Ronald of the Sacred Heart (after her father).
For thirty-two years Sister Ronald taught in several schools: St. Joseph in Muskegon and Grand Rapids; St. Mary in Lake Leelanau, Charlevoix, Carson City, and Gaylord; Our Lady, Chesaning; St. Michael, Maple Grove; St. John, Essexville; and Catholic Central, Alpena. During this time, she completed studies for her B.A. from Aquinas College (1958) with a major in English; and her M.A. from Indiana University (1969) in drama. When Alpena Catholic Central closed she was ready for a new venture.
In 1971 Sister Mary Alice (as she was by then known) volunteered to work in the new Child Care Center operated by Saginaw County. Instead she was chosen as administrator and became "mother" to neglected and abused children ranging from infancy to seventeen. She described the ministry as "hectic but good" and remained in it for five years. "I felt I was spreading the Word by consoling, healing, and disciplining. My presence among those hurting children and their parents really spoke of Christ to them."
Feeling a need for a less stressful position Sister Mary Alice became administrative assistant to the Chancellor of the Saginaw Diocese. In that capacity she encountered different kinds of stress along with a rewarding experience.
Between 1981 and 1988 Sister Mary Alice worked in Florida. First as administrative assistant to the principal of St. Thomas High School in Davie; then in staff positions at Barry University, West Palm Beach; and at the Office of Tribunal for the Diocese of Palm Beach. In 1989 she returned to Saginaw and for three years was auditor for the Diocesan Tribunal. In 1992 she became Coordinator of Common Life at Aquinata Hall. Finally, Aquinata and the Marywood Health Center became her home.
In her own words, "I have gone through closed doors that have been opened for me. My life has been one of adventure, curiosity, determination and wonder." Gifted with a hearty sense of humor and love of fun, she has lifted the spirits of many. Her hobbies and interests were reading, listening to music, seeing a good movie, working crossword puzzles and sharing a good story. She also enjoyed playing in the hand bell choir at Dominican Chapel/Marywood. Being with community was important for her: praying, playing and working together. Physical proximity was not necessary for Sr. Mary Alice. When she was as far away as Florida she could still feel community over the miles.
In March 2004 her dear sister Jane, her dance partner in the Scottish reels, went before her to her heavenly reward. Sister Mary Alice missed her greatly since "they were as close as twins." Their dancing days can now continue.
Sister Mary Alice described herself as "a happy person by nature," and her sparkle and laughter have brightened the lives of those with whom she has worked and lived. She regarded the move to the Marywood Health Center in July as a "great adventure." She would often exclaim, "What a beautiful place. I love it! They gave me the best room in the house and I didn't even ask for it."
A happy person in a happy life! Her doors were always open to God's will. And so, life slipped just as naturally into LIFE. On December 11, 2005 Jesus opened the Great door of heaven for Sister Mary Alice.
Sister Mary Alice is survived by sister-in-law, Mrs. Rita MacDonald of Bay City; a brother-in-law, Ray Murray of Saginaw; nieces, nephews, many friends and a loving Community.