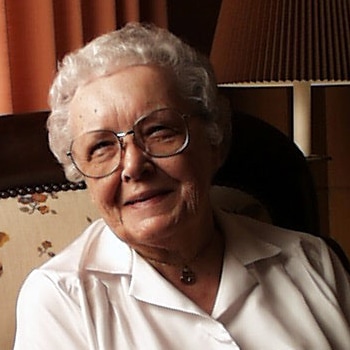 Sister
Marie Rosaire Longtin
Life Story & Obituary
October 29, 1916 – April 10, 2011
At her Golden Jubilee in 1995, she wrote, "I have a record of the 5,000 children I've taught over fifty years."
Graziella Lorette Longtin was the first of 13 children born to Anatole and Valeda Martin Longtin, both of them from large Catholic families from Quebec. Valeda Martin came from a little village, L'Acadie, and Anatole from Ste. Philippe de Laprairie outside Montreal. Valeda's excellent Catholic education became a compelling force within her to make sure her children had the same. Similarly, Anatole's family had given two daughters to religious life. Valeda and Anatole had pioneer stamina. Only three months married, they left their eastern comforts for the cold plains of Saskatchewan where Anatole had purchased a farm near Kindersley. Their first home was a crowded one-room cabin. Graziella was born October 29, 1916 in the town hospital and baptized a few days later on All Saints' Day.
Each fall, Mrs. Longtin packed Anatole's truck with "three big trunks and three big boxes filled with seasonal needs" as well as her precious daughters for the long 175-mile trip to the boarding school known as the Duck Lake Academy of the Presentation Sisters. When important personages visited the Academy, the nine Longtin sisters were lined up for proud display. Graziella, who later became Sister Marie Rosaire, was the eldest of twelve sisters and one brother who would attain the Catholic education their parents desired for them.
Graziella loved the Academy and the Sisters, and here first felt the desire to be like them. When she went on to complete her education at McKenzie High School in Kindersley, she met Father Francis Ogle, an enthusiastic promoter of the Michigan Grand Rapids Dominican Sisters. The next morning, Graziella posted a letter to Sister Jerome, Novice Mistress at Marywood. She arrived at Marywood on July 28, 1934.
With a view to a future Canadian assignment, the new postulant was sent back to Canada on September 17th to attend the Normal School at Moose Jaw. In June, having secured her Canadian credentials, she rejoined her classmates to receive the habit on August 23, 1935. She received the name Sister Marie Rosaire of St. Dominic. Following her canonical novitiate, she attended Catholic Junior College before making her first profession on August 5, 1937, and her final vows in 1940. Meanwhile, St. Henry School in Melville had opened and soon Sister Marie Rosaire returned to Canada where she taught high school and furthered her Canadian credentials through correspondence courses and attendance at the University of Saskatoon. In 1942, she obtained a Bachelor of Arts degree in French from the University of Ottawa.
Returning to the States, Sister Marie Rosaire strengthened her education at Aquinas College and taught in Merrill and Carson City before a Southwest interim of service at Santa Cruz, Penasco, Belen and Ranchos de Tao in New Mexico.
She continued to study as well as teach. In 1960, she earned her Master of Arts degree in French from Western Reserve University, Cleveland, Ohio and bolstered it with work at Laval, Notre Dame and Michigan State. She was well prepared for teaching French at the secondary level in Muskegon, Grand Rapids and Alpena. Sister also taught two summers in France with the Foreign Study League, and capably supervised student tours to France, Quebec and Montreal.
But, the lure of the Southwest called the traveler within her back to New Mexico and even to Mexico to study for six weeks at Universidad de las Americas in Cholula. The sunny, clear skies of Albuquerque found her in several roles, secretarial and teaching. Looking back, she wondered if she had ever done anything extraordinary. But, truth to tell, she did ordinary things extraordinarily well. She had many hobbies to fill in the resting interludes of her life. Opportunities for travel, many of them linked to duty, gave her great joy. Particularly, she enjoyed a trip to Australia with her friend, Sister Marie Raymond Baker. And, not the least by any means, she enjoyed visiting her big family.
In 1995 she moved to Marywood where she served as a mail sorter. She also volunteered at Spectrum Health East Senior Foot Care and Second Harvest Gleaners. Most recently, she has resided at the Marywood Health Center where her ready smile and good stories welcomed the visitor.
Early on a Sunday morning April 10th, Sister Marie Rosaire left this world to join the communion of saints. She will be missed by all who knew her.
Besides a loving community, Sister Marie Rosaire lives on in the memories and love of her sisters, Annette Nesbit of Radisson, Saskatchewan, Jeannine (Philip) Dinelle of Prince George, British, Columbia and sister-in-law, Emily Longtin of Kindersley, Saskatchewan, many nieces and nephews and friends.