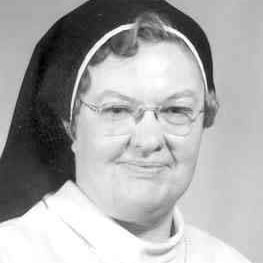 Sister
Marie Raymond Baker
Life Story & Obituary
March 17, 1918 – December 14, 1994
"Seek the things that are above."
Sister Marie Raymond's life journey began in eternity, spiraled along for 76 years, homeward bound to rest now and always. Travel ranked high on Sister's list of life's pleasures. It covered the scope of her life-journey, beginning aeons ago in the mind of God, and carried along to her earthly birth and eternal beyond. Indeed, she knew her itinerary and how to get there: "Seek the things that are above." Along the way a loving God had kept her on course, designing the events in times and places. With it she was gifted in family, church, friends, and community. Material gifts she marshalled in order – as when in the aftermath of the sinking of the Andrea Doria she saw the fruits of a year's study swallowed up by the ocean: Not what we have… but what we are in God's sight is what counts.
Margaret Veronica Baker was the fifth child of Gerard and Johanna Baker, both immigrants from the Netherlands. She was born on March 17, 1918 in Muskegon, Michigan and with her younger brother, Francis, survived to this day both of her parents and four older siblings. Very early in Margaret's life her only sister, Catherine, died untimely and left a four-year-old daughter, who quickly endeared herself to the grieving Bakers. The four brothers bonded themselves more closely to Margaret and she to them. For sisters, God would give her Dominicans by the hundredfold.
Back to the beginning, Gerard and Johanna took their second daughter to their parish church, St. Joseph, to be baptized on March 24, 1918. The Baker home was firmly grounded and structured to be a bulwark of Church. Margaret very early became acquainted with saints and angels. Parental pride in their eldest son Raymond's pursuit of the priesthood at North American College in Rome was naturally transmitted to the other children. At age five, the future Dominican was more than ready for entering St. Joseph School. More than ready, because her brother Henry busied himself as "preschool teacher" in the three R's. Enthusiastic and prepared, she met the challenges of First Grade with the Sisters, rejoicing in bringing home all A's and shamed at anything less. Age five was highlighted by Father Ray's First Mass. Henceforth, his visits home became family events and his Masses meant total family involvement. Even young Margaret with extra coaching from the Sisters became the organist. Two years later at her First Communion, Johanna looked at her little white-veiled daughter and mentioned that she looked like a Sister. In her turn, Margaret first felt the desire to become one.
Eleven years of attending St. Joseph School were shadowed by the Great Depression. When family resources hit bottom, the Sisters continued the music lessons as a good investment. What foresight! Margaret spent more and more fruitful time with the Sisters in sacristy and classroom. Content and happy, she seemed oblivious to the congenital limp of her right leg for which the remedy at that time was deemed slim or nil. It was a concern she had already dismissed to the bottom of her priorities and in later life remained so. She could count her blessings! Graduation in 1934 presaged a new beginning.
In September, Margaret entered the novitiate of the Marywood Dominicans. Under the capable guidance of Sister Jerome Smithers she rejoiced upon receiving the habit and the name Sister Marie Raymond of the Precious Blood. With the formation guidance of Sister Fabian McDonald, she prepared to make her First Vows to Mother Euphrasia Sullivan on August 5, 1937. Meanwhile, her intellectual and professional development proceeded at Catholic Junior College for what turned out to be providential long-range planning, her musical education kept apace.
After professing her First Vows, Sister was assigned to teaching piano and school music at St. Joseph, Bay City. On August 8, 1940 she sealed her covenant with God for life, taking her Final Vows. Henceforth, the paths to God and for God's people cleared. Fidelity to both would be set to sounds of music – for 56 years in schools, parish worship, and studios – earning a bachelors degree in music from the American Conservatory in Chicago in 1952. Subsequent study at the same school rewarded her with two master's degrees, the first in piano in 1960 and the second in music theory in 1962. A year of study at Pius XII Institute in Florence deepened her cultural dimension. The fact that the sinking of the Andrea Doria on her homeward journey took her manuscripts to the ocean bottom was not a finality. Home and on land, she set about to recreate what her mind had kept secure.
The same dogged determination characterized her teaching. Students and observers admired her for her relentless, even sometimes angry, insistence on reaching for one's potential. To their renewed efforts, she matched encouragement and praise. It was Sister's fun-loving spirit, learned from her brothers that endeared her to the students she taught. Sister taught piano, school music, choir, band, and most often was parish organist across Michigan at St. Joseph, Bay City; Ss. Peter & Paul and St. Mary, Saginaw; St. Joseph, West Branch; Marywood Academy, Grand Rapids and finally full-circle in Muskegon at Catholic Central, her focus never faltered. All her talents were directed to the God she loved. Intrepid, unstoppable, unsinkable until 1994. Visiting Marywood, she remarked to a friend, "It is time to slow down."
Indeed, it was. It excited her to think of getting back to Muskegon, the first milestone of her lifetime to reminisce, to savor long-stored memories in her new chair, to anticipate reunions at her upcoming Diamond Jubilee, to enjoy her therapeutic needlecraft and accompanying music, peaceful stretches of time with only her God. Ahead lay only safe passage. God alone knew it would also be swift. Sister Marie Raymond saw her Divine Spouse face-to-face early in the morning before dawn on December 14, 1994.
Trust in God had underlaid the past, and we are left with her gift. Even as a ship sank, her confident prayers to the Star of the Sea for "Un Buon Viaggio" had given her the calmness and courage to help her fellow travelers to safety. She had been a good exemplar to us who mourn her leaving. Her life has been "Un Buon Viaggio".