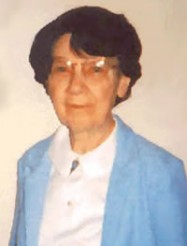 Sister
Marie Heyda
Life Story & Obituary
February 8, 1910 – October 29, 2003
The talents of sister Marie's birth found growth in both the spiritual and academic branches of her life: "Contemplare et praedicare." The Dominican motto spurred her to full speed. "VERITAS," her watchword and goal!
The family table, as Sister Marie Heyda reminisced, was not only a charming memory, but symbolic of the orderliness and family expectations that seeded and guided her growth into the scholar, teacher and prolific researcher, a pride of her later Dominican family. "Father" presided at the head, and the children in successive order beginning with the firstborn at his right, until the youngest was at his left and opposite the oldest. Mother in European fashion was midway at the foot. Being the ninth child of ten, Antoinette was always close to him on the left. The memory seemed significant, especially that she would recall it. Patriarchal as it seems, the relationships were loving and strong, as well as clear. She was well rooted.
Antoinette Barbara was born to Joseph and Catherine Hejng (High) Heyda on February 8, 1910 in a modest rural home outside Grand Rapids. Sister Marie called it "fairly poor." She was baptized February 27, 1910 at St. Anthony Parish. Two early moves into the city proper brought her to eight delightful years under the tutelage of the Notre Dame Sisters at St. James. Upon her entry at Girls' Catholic Central, the family moved back to the country. By this time, "Father" was slowly losing his battle with tuberculosis, but nonetheless holding his own at the table. The pride of the patriarch in each of his children sparked a return of effort and achievement. Antoinette early sensed the obligation to match her siblings' efforts, albeit from the left side of the table. The future stretched unknowingly, but the present was always a challenge. Moreover, rising within her was a self-assurance reaching for independence. With quiet forethought, she secretly squeezed in some business training. Two days after graduation, Antoinette surprised them all with announcing her first position as a stenographer. For her, it was only a steppingstone to a life goal. Choices were narrowing between becoming a nun or a teacher. Practicality dictated the latter, so she used her savings to enroll at Kalamazoo Normal. One year later, as her father's health worsened, she came back to the earning power of office work.
When two years later, her father died and the mother's future seemed secure, Antoinette felt free to pursue both her desires. She entered the Marywood Novitiate on September 8, 1931.
Simultaneous with her beginnings in Dominican life were her early associations with the growth of Aquinas College from the tiny Catholic Junior seedling on Ransom Avenue. From her postulant days at Catholic Junior throughout intermittent and eventual full-time teaching, her associations with Aquinas College were lifelong and loyal.
Antoinette received the Dominican habit from Mother Eveline Mackey and the name Sister Marie of the Sacred Heart on August 17, 1932. Two years later, she made her first profession, and on August 21, 1937 committed herself to God for life. That earlier business expertise was put to good use in her first teaching assignments, even as she sought new directions in her education. She soon proved herself a promising history teacher in community high schools, notably at St. Joseph, Bay City and St. Mary, Saginaw. Often, she served the community by teaching after-school extension courses. In 1957, she joined the faculty of Aquinas College full time, advancing to full professorship. A total of forty-six years of active teaching was crowned in 1981, when she was named an Aquinas Professor Emeritus.
True to her Dominican charism, for Sister Marie's life it was learning, and the search for "Veritas" which demanded her total energies and perfectionism. Both her Master's Degree from the University of Detroit in 1953 and her Doctorate from the University of Michigan in 1966 reflected her fascination with human progress and government afar and at home. Her Aquinas years were enriched with local historical research, academic publications, book reviews and study. The Emeritus years gave her more time to do likewise.
Typical of her interest in religious and civic development was The History of Catholic Central and West Catholic High Schools: A Diocesan Venture, a Study of 75 Years published in 1981. In the same year, the Grand Rapids Historical Society gave its "Albert Baxter Award to Dr. Marie Heyda, OP for an outstanding contribution to the study, interpretation and preservation of the history of the Grand River Valley." Above all her honorary distinctions, Sister Marie treasured her association with the Phi Alpha Theta Society, an international Honor Society in History.
The sunset years glowed with the continuation of her avocations. On the lighter side, hiking, swimming and gardening belied the onset of years. Daily devoted attention to an invalid sister at Villa Elizabeth picked up the family bonds from around the big table. Marywood life enriched her with its liturgy. Even at Aquinata she continued her ministry as historian of the Catholic High Schools in Grand Rapids.
The memories were good and many. With typical candor she attributed the successes of her accomplishments to the blessings of her talents and God's continued grace. For her part, it was enough to contemplate and to teach.
Sister Marie is survived by her sister, Agnes Kinney of Walker, many nieces, nephews, friends and a loving Community.