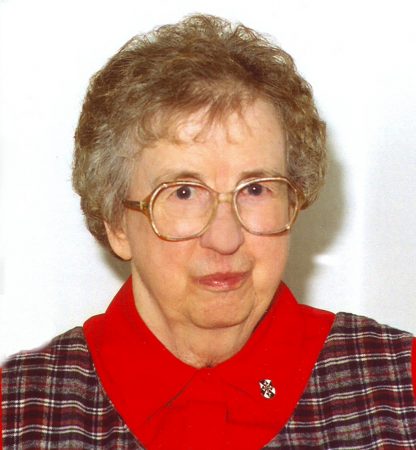 Sister
Marie Eugene Charbonneau
Life Story & Obituary
February 5, 1926 – June 25, 2009
"We come to different callings, doing the will of God. God didn't do just one thing. Why should we?"
This was Sister Marie Eugene's comment when she retired after 52 years as an elementary teacher. Her teaching career was one of constant growth.
She was born in Windsor, Ontario, across the river from Detroit on February 5, 1926. Baptized Jeannette Therese, she was one of ten children of Philemon and Alexine Lemieux Charbonneau. The family had moved to Detroit by the time she began school at St. Ann's, where she was taught by Canadian Holy Name Sisters. "I spent a great deal of time with them because I knew that was what I wanted most."
Jeannette began high school at Melvindale Public High, but when the family moved to Dearborn, she transferred to St. Francis Xavier in Ecorse, Michigan. This entailed riding by bus and transferring to another bus in front of St. Mary Magdalene School. One morning Sister Ursuline came out and invited her to a reception at Marywood. "The friendliness of the Sisters at Marywood convinced me that was where I wanted to be."
Before fulfilling that wish, Jeannette worked as a secretary for the Algo Shutter and Manufacturing Company. In September of 1945, she entered Marywood as a postulant. At reception she took the name of Sister Marie Eugene of St. Joseph. At the time of her profession in 1947 there was a shortage of teachers and like many of her classmates she was sent out to teach without further training. After three years at Holy Family, Saginaw, she helped open St. Mary's School in Alma and she taught there for nine years. One of her second-graders and a life-long friend was Danny Goggin, who years later entertained audiences with the comedy Nunsense.
Sister Marie Eugene also taught for eight years in New Mexico at St. Francis, Ranchos de Taos and St. Anthony, Penasco. On her return to Michigan she taught at St. Joseph, Pewamo and then in 1978 with Sister Mary Alvesteffer on Beaver Island. They were the last in a line of Dominicans who had served the parish and the public school since 1899. They left the Island in 1991. From there Sister Marie Eugene responded to an invitation from the sisters and pastor to teach at St. Michael's, Brunswick. The pastor, Fr. Donn Tufts, gave her Bailey, a large Newfoundland/Black Labrador mix, who moved freely around the school, the convent and the church.
In January 1999, Sister Marie Eugene taught her last class in Brunswick, intending a low-key departure. But the Muskegon newspaper ran a lengthy illustrated article on her years in the classroom over the half-century. Included were memories by Dan Goggin, who named the off-stage nun in the play after her. "She was a funny nun. She was a wonderful character . . . and certainly part of the whole sense of humor that grew out of growing up Catholic." She was regarded as a master teacher with the ability to motivate children to achieve beyond their grade levels. Other tributes to her include the Third Annual Woman Educator of the Year award from Delta Kappa Gamma Society (Boyne City) in 1982 and the Salute to Educators Award from the Fremont Area Foundation in 1997.
After her retirement from teaching, Sister Marie Eugene moved to Marywood, where she engaged in volunteer ministries in the mailroom, dining room and Dominican Center.
On Sunday mornings she rose early to receive the morning newspapers. She was quiet, unpretentious and optimistic. Sister Marie Eugene enjoyed reading and playing cards. She was skilled in many handicrafts and provided the Marywood Health Center gift shop with several beautiful crocheted items.
Sr. Marie Eugene's colleagues in Brunswick persuaded her to join them on a tour of Alaska by airplane and on land. She enjoyed this so much that she joined Sister Nancy Malburg on a 10-day train trip to the West Coast in April of 2004. Both Sisters remember the trip as truly enjoyable. Their adventure included much laughter, beautiful scenery from Chicago to Sacramento, a few days of relaxation on Catalina Island, and riding the Coastal Starlight train along the ocean from Los Angeles to Seattle before returning to Grand Rapids. Recalling their time together, Sister Nancy says, "I could not have had a more delightful companion – and special friendship found! On our most recent visit, at the Marywood Health Center in April 2009, we remembered our trip and smiled again."
In the spring of 2009 Sr. Marie Eugene was diagnosed with advanced cancer and chose to go on Hospice care. Residing at the Marywood Health Center she inspired both patients and staff with her peaceful and cheerful acceptance of each day of life. Mid-afternoon of Thursday, June 25 she peacefully and quietly left this life for eternity with the God she knew so well.
Sister Marie Eugene is survived by her sister Mary (Robby) Robinson of Brooklyn, MI; her sister-in-law Carol Charbonneau of Taylor, MI; nieces, nephews, friends and Sisters in her Dominican community.