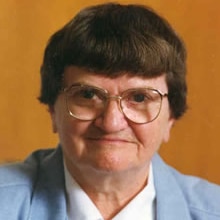 Sister
Marie Emile Rivard
Life Story & Obituary
October 17, 1924 – March 14, 1998
"In doing good, let us not grow tired." Galatians 6:9
In life and death, Sister Marie Emile lived these words of Paul. She was on her way to help vacate the Saginaw apartment of her friend, Sister Faith Mahoney, when a sudden collision on an icy road took her and Sister Mary Angus Black to join their recently departed mutual friend.
Dolores Therese Rivard was born October 17, 1924 at the home of her parents, Emil and Mary LesBourdais Rivard, in Bay City. She was the twelfth of fourteen children and was named after her paternal grandmother. Her father operated a creamery at Kawkawlin, Michigan. Her mother was her ideal. "As long as I can remember," she recalled, "the daily rosary was a part of our family life." Sadness was mixed with happiness for the family. Two brothers, Oliver and Arthur, crippled since childhood with spinal meningitis, died as young men after suffering with patience and resignation. A sister, Beatrice, died in infancy from the same disease.
Dolores attended kindergarten at Corbin School and then completed eight grades at Visitation School. Her high school years were at St. Joseph, Bay City, with the Grand Rapids Dominican Sisters. After graduating in 1943 she spent a year with her family and then entered the Marywood postulancy, September 8, 1944. At Reception, she received the name Marie Emile of the Immaculate Conception. (Marie Emile was the French forms of her parents' names.) Her First Profession of Vows, March 14, 1946, was exactly 52 years before her death.
In 1947 Sister Marie Emile began 14 years of teaching. At her first mission, Sacred Heart, Muskegon Heights, she taught Grade 6. Subsequently, she taught at St. Joseph, Muskegon; St. Mary, Gaylord; At. Alphonsus, Grand Rapids; St. Mary, Saginaw; Blessed Sacrament, Grand Rapids; and SS. Peter and Paul, Saginaw. Between 1961 and 1984 she was principal in turn at Sacred Heart Academy, Mt. Pleasant; Immaculate Heart of Mary, Grand Rapids; St. Joseph, West Branch; and St. Thomas the Apostle, Grand Rapids. She was always supportive and helpful to her teachers. An administrator for Kenowa Hills Public Schools who began teaching when she was principal at I.H.M. paid tribute to her enthusiasm, dedication, hard work, and good example. "If I were to select two words that come to mind when I attempt to describe this fine educator, they would be that she was both a Christian and a true professional."
Sister Marie Emile's professional credentials included a B.S. from Aquinas College; a certificate from the Aquinas Theological Institute, Grand Rapids; an M.A. in Administration and an Education Specialist in Curriculum degree from Central Michigan University. At various times she served as chairperson and founder of the Grand Rapids Area Athletic Council for Catholic Elementary Schools; president of the Grand Rapids Diocesan Principals Association. Sister also served on Boards of Education of Marywood and Holy Rosary Academies; on parish boards of education and as a CCD director. For the Congregation she evaluated schools and was a member of several committees. In 1984 Sister Marie Emile entered a new form of service as administrative assistant in the Grand Rapids Dominicans Office of Finance. For six years, she was custodian of the Sisters' house budgets. She was always ready to help those with financial problems and her materials were user-friendly . When questions arose about community financial policies, her answer was "whatever is good for the Sisters." She pushed for a congregationally-owned cottage where all could have a relaxing vacation.
In 1991 after a year of transition, Sister Marie Emile worked in the business office of St. Andrew School and the Pastoral Care Ministry at St. Mary's Hospital. Herself a cancer survivor, she loved visiting the sick in the hospital, at Marywood and Aquinata, and went monthly to visit her brother, confined to a nursing home in Saginaw.
Sister Marie Emile was kind, thoughtful, generous and fun-loving. She loved spectator sports, parades, and festivals. A first-class shopper, she had a keen eye for sales. When asked if she had a hobby, her apartment mate answered, "people and helping people." She liked to drive and had traveled in approximately thirty of the United States and some of Canada. A highlight of her life was making the Pilgrimage to the Lands of Dominic. For this coming July she had registered to visit the Shrines of Canada. Instead, she went early to see St. Anne de Beaupre, St. Joseph, Our Lady of the Cape, the Sacred Heart, Kateri Tekakwitha, and the North American Martyrs in person.
Sister Marie Emile was looking forward to a performance of the Sound of Music March 15th, but instead she went home to God where she will hear the sound of heavenly music forever.
Sister Marie Emile is survived by her sisters Dorothy (Mrs. Frank Kerbleski) of Bay City; Sarah (Mrs. Frank Boyk) of Linwood; Betty (Mrs. Russell Heeke) of Bay City; her brothers Hubert (Edna) and Emil (Mary) of Bay City; a sister-in-law Mrs. Agnes Rivard of Mt. Clemens; a brother-in-law Elmer McFarland of Bay City; and three generations of nieces, nephews and many friends.