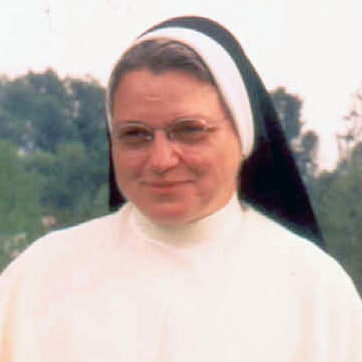 Sister
Lucinda Lehmkuhle
Life Story & Obituary
March 2, 1914 – June 27, 1980
"God bless everyone who in any way has done anything to keep me near to God."
Lucinda Anna Lehmkuhle was born on March 2, 1914, the oldest of eleven children in the John and Lucy Lehmkuhle family. Lucinda's early days were spent on the family farm. In her own words:
From the farm, my parents moved to the city of St. Louis, Michigan, where I attended the city school, working part-time at the flour mills where my father was employed. It was here I got my first taste of serving the public.
Through my high school years, I traveled, tried to enjoy the things the rest did, but I was never satisfied. I am unable to explain it… From 1931 to 1933, I fought against my vocation. I prayed and prayed and at the same time would absolutely tell God I would do as I chose. My parents were most happy and I was wishing they would prevent me from entering the convent. One night I came home with a firm conviction that I would never be happy until I did what God wanted me to do.
Lucinda entered the convent at Marywood on September 8, 1934, received the habit on August 23, 1935, and the name, Sister Mary Lucinda of the Holy Family. Sister Lucinda taught the early elementary grades for over 35 years and from 1965 to 1979, was principal of St. Francis Elementary School in Traverse City.
In recalling her novitiate days, Sister Lucinda wrote:
…I began to look at the bright side of life and no matter how deep my sorrow, I could smile. I do hope that I always strive to keep bright and cheerful.
I have learned much from my Sister companions and from the little souls in front of me. At first I had a very slim desire to teach, but God has been good to me, for I truly love to teach. I love especially the little ones.
Sister Lucinda completed her autobiography asking forgiveness of those she may have offended and praying for all: "God bless everyone who in any way has done anything to keep me near to God."
Sister Lucinda underwent surgery for cancer in early July 1979, and was in and out of the hospital during the year. Sister's condition gradually weakened and at approximately 12:30 am on Friday, June 27, 1980, Sister Lucinda died at Aquinata Hall. She can say with St. Paul, "I have fought the good fight. I have finished the race, I have kept the faith. From now on a merited crown awaits me; on that day the Lord, just judge that He is, will award it to me…" (2 Timothy 4:6-8).