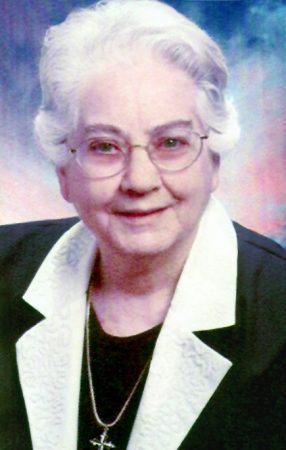 Sister
Lisa Marie Lazio
Life Story & Obituary
July 8, 1935 – February 8, 2008
"Celebration doesn't always mean fireworks and whistles. There can be celebration even in grief. Celebration is awareness."
From teacher to pastoral minister, to councilor in the Congregation; from spiritual guide to originator of a House of Blessing, through it all Sister Lisa Marie was an artist, musician, free spirit and intense lover of life, seeker of truth, true preacher of God's abiding wonders.
Her life started in Chicago, July 8, 1935 as Nancy, the eldest of six daughters of Charles and Helen Murphy Lazio. The family moved to Grand Rapids and from third grade on Nancy studied with Grand Rapids Dominicans, first at St. Thomas School and then at Marywood Academy. As a music student she sang leads in Marywood operettas and as a high school senior played Mother Augustine Neuhierl in the Congregation's 1953 Diamond Jubilee Pageant – Aloft His Torch, which was presented at the Civic Auditorium.
In September 1953 Nancy entered the Congregation. She was received as Sister Lisa Marie and after first profession remained in the scholasticate to complete her studies. She graduated with a BA from Aquinas College in 1958 and in the middle of the year taught in the junior high at Marywood. Then began a period of high school teaching at Catholic Central, Alpena and Bishop Borgess, Dearborn. During a sabbatical year in 1970, Sister Lisa Marie studied at the University of Detroit, and later at the Pius XII Institute. During her Sabbatical in the Detroit area she volunteered to direct the youth choir at Our Lady of Grace Parish. From 1971 to 1976 Sister Lisa Marie taught at Aquinas College. She founded and coordinated the campus ministry team and served on the Graduate Council of the Aquinas Institute of Religious Studies.
A life-long learner, Sister Lisa Marie earned a commercial art certificate from the Famous Artists School in Westport, CT and a certificate in People-making: Family Communications from the National Family Communications Skills Center in Palo Alto, CA, followed by certification as a Workshop Trainer. In various programs she studied yoga, healing touch, icon writing, contemplative journaling, chakras, and psychology. Energetic and fully alive, Sister Lisa Marie pursued any study that led her and others to fullness of life.
"Parish Sister" became Sister Lisa Marie's title in 1976. She was the first to fill the role at Guardian Angels Parish, Manistee. Through her efforts the religious education program was expanded to include church nursery, youth ministry, adult education, children and adult choirs, parish library and a resource center. In 1982 she moved to Boyne City and served as pastoral associate at St. Matthew and St. Augustine parishes; then at St. Mary, Charlevoix, and at Resurrection of the Lord Parish, Standish, Michigan.
Congregational leadership next called her. From 1994-2000 she was Councilor for Life Development. Here Sr. Lisa Marie initiated programs for spiritual development for Sisters of all ages and had a special part to play in the care of those who were in mid-life and aging.
Bringing together all of her abilities in spirituality and art, Sister Lisa Marie founded the Dominican House of Blessings near Alpena, "a place to get away for peace and quiet, maybe some reflection." The grounds include woods, an art studio, and a pond with a waterfall. Her house had accommodations for two visitors, who were free to use their time in any way they chose. She offered workshops such as Mid-Life and Long-life programs, which she also offered at Marywood during the summer months.
Sister Lisa Marie served on Councils of Religious in three dioceses and on numerous committees. One significant experience was participating in the 1969 Synod in Detroit, that gave her a deep awareness that "we ARE Church."
She had a gift for art in many forms – drawing, painting, sculpting, crafting, music and design. This was evidenced in a retrospective display at Marywood in August 2002. Her love of music was shared through cantoring, singing in choir, and directing choirs.
In her later years Lisa suffered weakening of vision. "I can't garden like I used to. I can't see like I used to, but that's okay because that is who I am at this time in my life and there is good in that." She believed that life is to be celebrated.
Having recently returned from a long visit with her sisters in Florida, Sister Lisa Marie was planning to return to her beloved House of Blessing in Alpena early this spring. God had other plans for her and so it was that on Friday morning February 8, 2008, Lisa left us peacefully without warning and without a sound. We will miss her though we know that she lives on in our hearts and minds and in all the good works that she has done; and she lives on with God in ways that we cannot yet comprehend.
Sister Lisa Marie is survived by her sisters Susan Lazio of Sarasota, FL; Kay (George) Bidinger of Rockville, MD; Cecilia (Phil) Merkel of Oakton, VA; Sister Mary Margaret Lazio, CSJ and Sister Lisa Ann Lazio, CSJ of St. Louis, MO; many nieces, nephews, devoted friends and a loving Community.