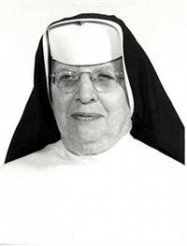 Sister
Leone Boucher
Life Story & Obituary
January 12, 1909 – November 18, 2001
"Lord, I want to see." Luke 18:41
At the age of fifteen, Sister Leone left home to enter religious life – a life to which she had aspired since her earliest days. Poor eyesight almost deterred her from doing so, but the prayers of her parents as well as medical care improved her eyes so she was accepted into the Dominican Community. She was later to recall with deep gratitude that she entered from a home where Christianity inspired by wonderful parents was the keynote and that education was the second stone in the foundation.
On January 12, 1909 Sister Leone, the first child of Leon and Veronica Boucher, was born in Grand Rapids. At that time her parents were members of St. James Parish and here she was baptized on January 24, 1909 and was given the name of Mary Frances. Sister Leone had three brothers and two sisters. When Mary was still young, the father moved the family to St. Alphonsus Parish lured there by an all-male choir. It was here that Mary was confirmed on May 10, 1916. The Redemptorists, who staffed the parish, were to have an important influence on the Boucher family.
Mary's grade school education was at St. Alphonsus School where our Sisters taught her. She had spent one year at the Fountain Street School to attend a sight saving class. The interest of her parents in their children never waned and each evening found both the mother and father busy helping them with their studies. Their never tiring emphasis on education bore fruit. Their three sons became Redemptorist priests: one a Doctor of Sacred Scripture, and the other two missionaries – one on the home front, the other in Thailand. The three girls pursued educational careers: one, a Doctor of Musicology, the other two "plain everyday teachers."
Sister Leone states that her postulant days, which had begun at Marywood with her entrance on September 7, 1924, were days of untold happiness crowned by the Reception of the Holy Habit on May 5, 1925 from Mother Benedicta O'Rourke. She was delighted to receive the name Sister Leone, a modification of her dear father's name, and her title "of St. Alphonsus." Her novitiate was spent under Sister Loyola Finn. Sister Jerome Smithers came into the novitiate for a short time before her first Profession of Vows on August 23, 1927, which she made to Mother Eveline Mackey, recently elected the Prioress General. Sister LeOne's close-knit family life, characterized by praying, studying, and playing together, well prepared her for her future life as a Dominican.
For forty-five years Sister LeOne's apostolic life on the missions was that of teaching. Her first two years were as a music teacher, followed by twenty-one years in the elementary grades. She taught every grade from one through eight, and sometimes four grades at one time. She then taught on the high school level for twenty-two years, every subject except math. In one school she and another Sister taught grade eight and all the high school subjects. But ministry for Sister Leone also meant choirs, playing the organ, glee clubs, and music festivals. In fact, she looked upon training a glee club as her "hobby" because she derived so much joy from it.
Sister was a most conscientious, hard working, successful, and much loved teacher. Her life as a teacher bordered on the heroic as all her life she had to cope with poor eyesight. In her autobiography she mentions that she had to rest the books on the organ stops, and that in the classroom she never could see the students beyond the third row. Yet she did remarkably well both as a student herself and as an educator. She bore the cross of poor eyesight graciously and patiently with never a complaint.
Sister's teaching assignments took her to the following missions and places: St. Charles; Dixon, New Mexico; St. Anthony and St. Joseph, Grand Rapids; Essexville; Beal City; Chesaning; Charlevoix; St. Mary Magdalen, Melvindale; Carson City; Lake Leelanau; Gaylord; and Maple Grove.
In 1971 she was given the privilege of living at home with her ailing and aged mother, though she was always welcome at St. Alphonsus Convent in the immediate vicinity. After three years, Marywood became her residence. By this time her poor eyesight, her great bane from infancy, finally overtook her, and she did not return to teaching. She engaged in various household duties with willing hands and heart. Meanwhile, the influence that she had exercised as an educator was not forgotten. In May 1975 the Gaylord Community Schools gave her a plaque in recognition of her outstanding contribution to the quality of life in the Gaylord Community where she had spent eleven of her teaching years. Sister was able to be present for the award ceremony.
Sister Leone loved life and had a wit that was not always readily sensed. Part of this was due to the fact that many did not know her too well as she avoided crowds because of her poor vision. Her wit she undoubtedly inherited from her father who used to write Sister every week without fail. His letters were not only a tonic for her but her mission companions. If Sister had "special loves," they were devotion to Our Lady and music.
Sister Leone was grateful for her years in religious life, and for all that she could do for the Order and the Church in spite of her handicap. May Sister Leone, who was deprived of so much outward beauty all her life, now know and experience the radiant beauty and glory of God. May she have eternal rest and peace with God, Our Blessed Mother, and all the Saints especially, St. Alphonsus.