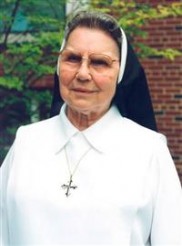 Sister
Leona Loyer
Life Story & Obituary
March 28, 1916 – June 14, 2002
"You have not chosen me. I have chosen you." John 15:16
This favorite scriptural text of Sister Leona Loyer along with Psalm 23 provides insight into her life. The good shepherd led her along safe paths into length of days.
She was born in Detroit March 28, 1916 to Joseph and Mae Bellemore Loyer and at Baptism received the name of Angela Marie. With two brothers and four sisters she enjoyed a faith-filled childhood. Her parents attended the 6:00 O'clock Mass daily at Holy Redeemer Church. Then they returned home and prepared the children for Mass and school. Love for the Rosary was also part of the early family formation.
Ten years of Angela's education were spent at Holy Redeemer School under the Sisters of the Immaculate Heart of Mary. In the fifth grade she read the life of the Little Flower, which so impressed her that she was convinced that some day she would become a Carmelite nun. That conviction lasted until the eighth grade. Then after a talk with her IHM teacher she turned her allegiance toward that order. Her parents supported her decision, but her father was concerned that she complete her high school education first.
The Lord was guiding her along a different path, however. Through her aunts, Sisters Angela Marie and Eustella Bellemore, Angela was acquainted with the Grand Rapids Dominicans. Sister Eustella told her about the Aspirancy and took her to Marywood to see a reception ceremony. "I went, I saw, I stayed. My search was over, or rather God's direction of my life was now in the hands of the Dominican Community."
After graduating from Marywood as an aspirant in 1933, Angela became a postulant in September in the class of 19 "lovely girls" – so designated in a letter of Mother Eveline Mackey. On August 21, 1934 she received the habit and the name of Sister Leona of the Holy Rosary. Her First Profession of Vows was made to Mother Eveline Mackey on August 24, 1936. She made her Final Profession on August 15, 1949 to Mother Euphrasia Sullivan.
For fifty years Sister Leona taught on the elementary and junior high levels in schools throughout Michigan: St. Charles, Wright, Beal City, Muskegon Heights, Charlevoix, Merrill, Munger, Saginaw, Dearborn, Prudenville, Grand Rapids, and Ravenna. For many of these years she had the added responsibility of convent and/or school administration. As teacher and administrator she earned the love of students and parents. A fine musician, she was often responsible for the church music. She was especially happy in teaching at smaller schools where she enriched the curriculum with her offerings in choral music and drama.
In the convent as well as in school Sister Leona always had time to help others. She was known for her sharing, concern, and thoughtfulness. Communal prayer gave her strength to face each day. Gifted and creative, she enjoyed crafts, travel, and sports, and culinary arts.
In 1987, the path changed. Retiring from teaching, she was assigned to Aquinata Hall in charge of the personal needs of the residents. Sister Carletta Bockheim, with whom she had lived on several missions, became the ward clerk at the same time. They not only worked together but also lived together, first at Mt. Mercy and then in a Marywood Apartment. Together they also visited our mission in Chimbote, Peru several times in the summers. Knowing what it meant to experience illness, Sister Leona was especially compassionate and understanding. She was quiet and hard working and persevered in anything she undertook. Of her years at Aquinata Hall she remarked that they were most fulfilling and added, "I am facing my journey home to One who has been the source and guide of my life."
A passage from When the Well Runs Dry by Father Thomas Green, S.J. on which she contemplated describes her ministry to the sick:
My Lord, my Love
You have called me
To float blind down the dark river
which leads to the kingdom of light.
May my journey be for the healing
Of those to whom you send me
Who walk in the shadow of death.