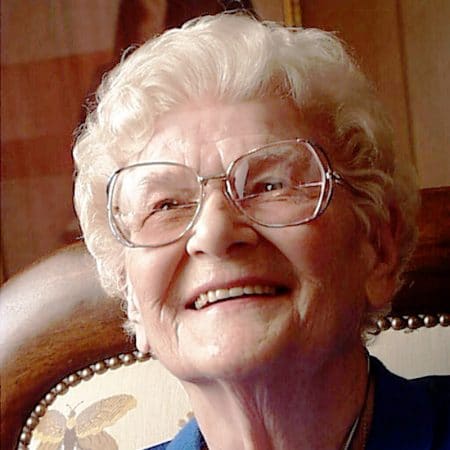 Sister
Justyn Krieg
Life Story & Obituary
October 14, 1912-September 8, 2011
"See good in everyone. In so doing you are imitating Christ, who died that you might be saved." -Last Will and Testament of St. Dominic
Born on a farm twelve miles from Lampman, Saskatchewan, Canada on October 14, 1912 to August and Elizabeth (Steiner) Krieg, who were both born in Switzerland, Martha was the second youngest of eight children, two boys and six girls. When she was in the eighth grade, the family moved into Lampman.
Martha attended grade and high school in Lampman. In the tenth grade she worked briefly as a nurse's aide and a store clerk. After successfully completing the 10th grade, she went to the Grey Nuns' hospital in Regina for training as a nurse. She learned about the Grand Rapids Dominican Sisters through her pastor, Father Francis Ogle, an uncle of Sister Kenneth Fitzgerald.
Martha entered our congregation on January 31, 1934. At reception she was given the name of Sister Mary Justin of the Precious Blood. She retained this name but later changed the spelling to make it look more feminine.
After profession Sister Justyn spent twelve years as a prefect of girls, first at Marywood and then at St. John's Home. At both places she took care of the many needs of the girls with competency, love, and caring. Then she was assigned as a nurse to the Marywood Infirmary and from there to Nazareth College, Kalamazoo, to obtain her B.S. in Nursing.
In 1952, a new challenge awaited Sister Justyn. She was one of the first sisters assigned to staff Pioneers Memorial Hospital in Brawley, California. For eight years she was the much loved Director of Nurses there. However, another challenge came in the form of study at St. Louis University to earn a degree in hospital administration. In two years she returned to Pioneers Memorial Hospital, this time as administrator. Her work merited the highest praise from doctors, staff, and patients.
In 1972, Bishop Joseph McKinney prevailed on her to accept the administration of Villa Elizabeth, a home for the aged, operated by the Grand Rapids Diocese. For 14 years she served there, again winning high commendation for her compassion and understanding treatment of each person as an individual human being. She considered herself especially blessed for having the opportunity to serve the aged ill in her own later years.
In 1986, when Sister Justyn terminated her work at the Villa, she engaged in volunteer part-time health care service for the local Red Cross. Summing up her life of ministry, she said that she loved every place where she was missioned and was grateful to spend her last years at Marywood, where she received many spiritual benefits.
Life was not all work for Sister Justyn. She enjoyed fun and her special diversions were quilting, crocheting, knitting, needlework, sewing, playing cards with friends, bowling, swimming, and walking. For 40 years she walked two miles a day. She was blessed with a beautiful rich singing voice and used it as a member of the choir and on other occasions. Besides traveling coast to coast for professional meetings, she visited her blood sisters and other relatives in Canada.
Always positive in her thinking, Sister Justyn operated on the principles of love of God and staunch faith. As an administrator she had high expectations of her co-workers and always let them know where they stood. She served on the Aquinata Board and the Health Care Committee and participated in the Sister Program, an opportunity for personal growth sponsored by the Congregation.
In 1985, on the occasion of her Golden Jubilee, Sister Justyn wrote, "My religious life has always been very rewarding and God has indeed blessed me with a strong faith, for which I give Him thanks. I thank each Sister and my family for the support they have given me through the years."
Sister Justyn is survived by nieces, nephews, good friends and the loving members of her community.