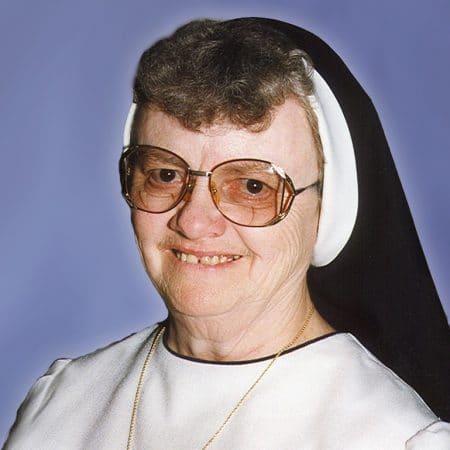 Sister
John Anne Paquette
Life Story & Obituary
January 12, 1927 – December 30, 2007
Her baptismal name Doloris means sorrow and she chose the title of Our Lady of Sorrows. However, throughout her life Sister John Anne, sociable and hospitable, was known by her smile and her fun-loving disposition.
Dolly, as her family called her, was born in Detroit on January 12, 1927 to John and Anna Boucher Paquette. The youngest in the family, with one older sister and four brothers, she enjoyed companionship with her nieces and nephews, who lived next door. The family belonged to St. Mary Magdalen Parish, Melvindale, which was growing at a high rate. She was proud of the fact that her father played an active role in forming the new parish of St. Alfred, Taylor.
Dolly's high school education was in part at Marywood as an aspirant and in part at St. Patrick School, Wyandotte. In March of 1945 she and Jeannette Charbonneau from a nearby parish went to Marywood to attend the reception of Sister Marie Joseph. They received a royal reception and the following September they both were in the postulant class and became Sisters John Anne and Marie Eugene. Doloris chose the name John Anne, combining those of her father and mother, and kept it permanently
After profession and crash courses in education, Sister John Anne began teaching in 1947. For many years she taught in elementary schools, meanwhile earning a bachelor's degree from Aquinas College in 1962 and a Master's in Administration from Marygrove in 1979. She was also certified in Remedial Reading and set up a Learning Center at St. Mary Magdalen School, Melvindale. There she lived near her aging mother and loved to accompany her to Bingo games. In many of her later teaching years, she was principal and also coordinated religious education for children as well as adults.
Sister John Anne joined the Charismatic Movement and when missioned in the Detroit area she served as a charismatic teacher and leader there. In 1975 she attended the International Charismatic Prayer Conference in Rome.
During the 1980's Sister John Anne spent three summers studying at St. Norbert's College in Wisconsin. From 1986 to 1988, she served the congregation as coordinator of Area 2. In 1989 her apostolate changed from teaching. She went to St. Joseph Parish, West Branch as a Pastoral Minister, where she loved to visit the elderly and the sick.
Failing health necessitated her move to Aquinata Hall in 1995. At one time prior to that she suffered terrible pain for 10 years before the doctors discovered the problem was gall stones. Soon after she learned she had Huntington's disease, which had afflicted her father and nephew. Despite her illness she worked in the infirmary sewing room, took care of plants on windowsills, and greeted everyone with smiles. When the new Marywood Health Center opened, she was wheel-chair-bound, but enjoyed participating in Bingo and other activities.
In her life on the missions, Sister John Anne was gracious and generous with her time. She loved to organize get-togethers and take Sisters to her brother's cottage in Hale. She enjoyed fishing there and also in Pinconning ditches. She attended Christmas parties and K of C parties, where she played a one-armed bandit with nickels the people gave her. She was quick to volunteer for any service, even driving Sisters to California or Pennsylvania or Florida. Her motto was "have car, will travel," whether for study, retreat, or vacation. Her travels took her to New Orleans for a meeting of the NCEA and a number of distant retreat centers. She also drove to New England, all of the U.S. national parks, Montreal and Quebec. On one special trip, a legacy from her father, she and Sister Marie Benedict made a grand tour of Europe.
At the time of her Golden Jubilee Sister John Anne wrote, "Praise God for my fifty years as a Grand Rapids Dominican! Most of my religious life I have taught 'little ones.' In my later years, I enjoyed pastoral work which brought me in contact with adults and presented me with different challenges." At that time, she was meeting the challenge of failing health – meeting it with a smile.
As 2007 was drawing to a close, the God Sister John Anne served so faithfully and joyfully called her to new life free from all pain. She lives in peace!
Sr. John Anne is survived by her brother Robert Paquette and her sister-in-law Rita Paquette of Hudson, FL, nieces, nephews, grandnieces and grandnephews, many friends and a loving Dominican Community.