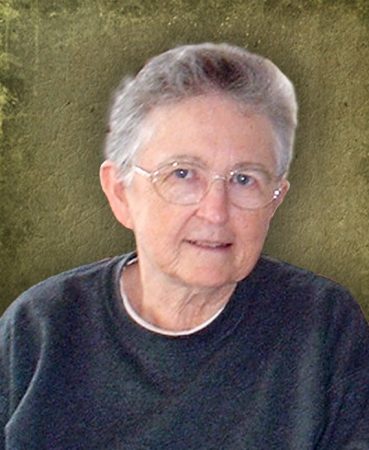 Sister
Jacqueline Hudson
Life Story & Obituary
November 19, 1934 – August 3, 2011
"Will my efforts bring about change in my lifetime?" she said. "Hard to tell; the important thing is that all of us remain faithful."
Jackie Hudson will always be remembered for willingly going wherever her conscience led her – even if, like the Apostle Paul, it meant going to prison.
Jacqueline Marie Hudson was born Nov. 19, 1934 in Saginaw, Mich. She was the second child of Francis and Ethlyn Brockless Hudson and had one brother, Frank. Jackie attended St. Mary School, elementary through high school, where her teachers were Grand Rapids Dominicans. Who could have imagined that this child would grow up to be a warrior for justice and willing prisoner for the cause of peace?
Jackie entered the Congregation on Sept. 7, 1952, and was received into the novitiate as Sister Mary Venard. She was soon teaching at Holy Rosary Academy in Bay City and St. Thomas and St. Alphonsus schools in Grand Rapids. She taught music and band and at times team-taught at St. Francis, Holy Name and Catholic Central. She received several awards for her work in music, piano, choral and instrumental music.
Her academic background included a bachelor of arts degree in music and a master of arts degree in religious education from Aquinas College and a master of arts degree in music from VanderCook College of Music, Chicago.
She lived from 1969 until 1993 in a house on Alexander Street with several other Sisters who experimented with living in a neighborhood house rather than in the usual convent setting. This experiment eventually became the norm and Jackie never looked back to the security and stability of a convent style living situation. Throughout her years in Grand Rapids, she sang with a musical group of Dominican Sisters known as the Mellow D's. She also enjoyed bowling, golf and travel.
In January 1982 her ministry changed from music. Having heard about the dangers of nuclear radiation from Helen Caldicott, M.D. and Rosalie Bertell, Jackie felt compelled to bear this new "burden of knowledge" thereby spending the rest of her life working toward disarmament and the end of wars. She ultimately believed that the pursuit of military dominance through nuclear weapons is illegal under international law and U.S. treaties.
Resourceful and talented, Jackie supported herself and her community through a variety of jobs which had flexible schedules allowing her time to pursue her passion of peace and justice work. Among her jobs were piano tuning and repair, babysitting and part-time work for the Fatman Private Detective Agency. She also worked for Western Michigan Research as an interviewer. She once said, "I liken myself to St. Paul who was a tentmaker to pay his expenses and still gave himself time for ministry."
In the 1980's, Jackie served on the national board of the National Assembly of Women Religious and was the 5th district contact for Network, a national Catholic social justice lobby in Washington D.C. She has also served on the Economic Justice Task Force of the Michigan Women's Commission for the State of Michigan and was a member of that group's subcommittee on Women on Welfare.
In 1990, she became program coordinator for the Institute for Global Education in Grand Rapids and received its A.J. Muste Peace and Justice Award. Among her other awards and honors was the Paul B. Beeson Award from the Washington Physicians for Social Responsibility for symbolically disarming a Minuteman III missile silo in Colorado.
By 1993, Jackie's ministry was in transition. She moved to Bremerton, Washington, where she was deeply involved in social justice issues. She became certified as a commercial driver and drove a bus in the city system. With her friends, Ardeth Platte and Carole Gilbert, she participated in demonstrations and acts of civil resistance for the cause of nuclear disarmament. The trio was jailed several times, most recently this year.
Sister Jackie Hudson was never disappointed or became discouraged when her passion and single-minded focus on the cause of a nuclear-weapons-free world was not greeted with enthusiasm or support. She believed that whoever came to an event were the right people to be there and whatever happened was the right outcome. Writing in a Dominican Sisters publication several years ago, she reflected on her peace and justice activities.
Not everyone understood Jackie's determination and single-mindedness in her work for a nuclear free world and in her dogged determination for justice, but all who knew and loved her admired her courage and conviction and rejoice that she now lives in God's Eternal Peace.
Sister Jackie is survived by her brother Francis (Evelyn) Hudson of Midland, Michigan; nieces, nephews, friends and Sisters in her Dominican Community.