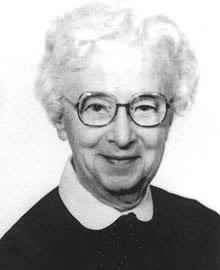 Sister
Harriet Sandborn
Life Story & Obituary
June 20, 1905 – February 25, 1991
"May Sister Harriet who so beautifully exemplified the Dominican motto of sharing with others the fruits of contemplation now know and experience the fullness of God's love, beauty, and goodness for endless time."
Sister Harriet was born on June 20, 1905 in Sault Ste. Marie the first of five children born to William and Catherine Sanborn. Her father though not a Catholic did not hinder his children from enjoying the blessings of his wife's faith and accordingly their first born was baptized on July 2, 1905 and was given the name of Marguerite Christine.
Marguerite began her kindergarten at Washington School and the following year she attended St. Mary's School where she was taught by the Ladies of Loretto, and it was under their direction that she made her First Holy Communion. Of her years at St. Mary's, Sister Harriet states that she was a voracious reader and the Sisters gave her access to every book in school. Later the family moved to Leelanau County where Marguerite attended a one room rural school, completed eighth grade and passed the State examination. In 1918 she enrolled at St. Francis, Traverse City and our Sisters provided her high school experiences. After graduation she worked for one year, but continued taking classes in Latin and French at St. Francis.
Following her mother's encouragement, she went to Detroit to attend Detroit Teachers College and achieved a Life Certificate for Elementary Grades. She began teaching in the Detroit Public Schools. She describes her classroom during those years as the "United Nations". While in Detroit she also taught Adult Education Evening Classes to those preparing for citizenship and a weekly Catechism class in a neighborhood public school. During those years she advanced her own education at Wayne State, Marygrove, and the University of Detroit.
Even though Marguerite was very much absorbed in her many educational pursuits, she states in her autobiography, "Periodically, the idea of a religious vocation surfaced. 'The Hound of Heaven' would become a vivid experience for me at times. I caught myself omitting the Our Father or leaving out the petition 'Thy will be done on earth.. .' It did not seem honest to be giving mere lip service. Making a decision became a genuine struggle, but September 5, 1937 found me in the Marywood Novitiate." She was ever grateful for her novice mistress, Sister Fabian MacDonald's beautiful and holistic approach to life. She received the Habit on March 10, 1938 and the name of Sister Harriet of the Holy Trinity. She joined the class of novices who had received the Habit earlier, and made First Profession of Vows to Mother Euphrasia Sullivan on March 11, 1939.
In September 1939, Sister Harriet was assigned to teach high school at St. Joseph, Muskegon. After six years in Muskegon she went to St. Joseph, Bay City where she remained for ten years. These years in high school teaching were fruitful ones both for the students and herself.
After pursuing a Doctorate in Education for two years, Sister Harriet's apostolate for the next twenty-three years became Aquinas College where in 1957 she became the Director of Secondary Teacher Education. She directed many students to successful careers as teachers. The UPWARD BOUND Summer Program which she so ably directed from 1966-1968 was indicative of Sister Harriet's tireless efforts with youngsters of college potential from the lower socioeconomic level.
The 1970's further broadened Sister Harriet's educational interests during her work in Aquinas' Continuing Education Program. She became the Director of the IDEA Program (Individually Designed Education for Adults) which was an external degree program. Sister Harriet also pioneered the popular Courses by Newspaper and Courses by TV. She likewise participated in the "Fifty-Plus" Radio Program and became active in "Emeritus College". Her course in genealogy was very popular both there and in the IDEA Program. At the time of her retirement from Aquinas College, Sister Harriet was given an impressive resolution of gratitude by the Aquinas Board of Trustees for her outstanding services, scholarship, and dedication.
Although she availed herself of every opportunity possible to continue her own educational enrichment and experiences, her interests were not limited to the field of education. She was skilled as a seamstress as well as in the culinary arts. Above all she had a great interest in her religious Community and was always willing to share her gifts and talents. In 1977 at the time of our one hundred years of being present to the People of God in Michigan, she co-authored RESPONSE, a mini history of the Community.
Sister Harriet took up residency at Marywood in 1981. Her days continued to be busy with writing, researching, tutoring, involvement in Emeritus College, and making baby christening sets. In November, 1988 Sister Harriet chose to make Aquinata Hall her home. The prayerful, quiet atmosphere, surrounded by loving Sister companions was ideal. And it was in this holy place that Sister Harriet was ready for her God when death came gently and peacefully on Monday, February 25, 1991.
Sister Harriet is survived by her sister Harriet of Traverse City; her brother William of Colfax, California; her sister-in-law Mrs. Betty Lou Sanborn of Traverse City; a nephew and several nieces.