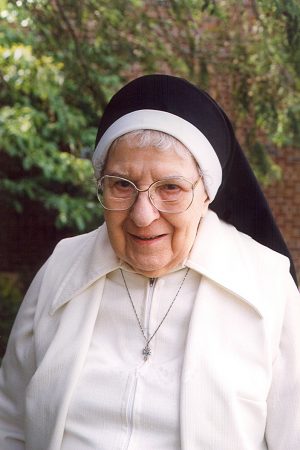 Sister
Francis Borgia Goyette
Life Story & Obituary
November 20, 1909 – March 27, 2009
Sister Francis Borgia's favorite prayer, "Lord, help me to know your holy will and do it" was surely answered by her long life of generous service in education, health care and family ministry.
Sister Francis Borgia' was born in Marinette, Wisconsin on November 20, 1909, the second youngest of twelve children, two boys and ten girls, born to Treffle and Vella Dechaine Goyette. Both parents were of French descent and had been born in Canada. Sister Francis Borgia was baptized the day after her birth at St. Joseph Church, Marinette, Wisconsin and was given the name of Gertrude Marie.
When the Dominican Sisters of Grand Rapids arrived to staff St. Joseph School, Marinette, Gertrude was entering the sixth grade. They were her much loved teachers until she graduated from high school. Religious life had a deep attraction for Gertrude. Her older sister had been a member of the Good Shepherd Sisters and her sister Bernadette (Sister Gertrude Ann) had entered the Grand Rapids Dominican Community in 1928. Gertrude entered Marywood the very next year August 14, 1929 and was received as a novice on June 26, 1930. At this time she received the name of Sister Francis Borgia of St. Joseph, a name she kept for the rest of her life. On August 30, 1932 Sister Francis Borgia made profession of vows to Mother Eveline Mackey.
The need for teachers in Catholic schools was so great that many were sent on the mission as second year novices. Such was the case for Sister Francis Borgia; teaching then became her work and her joy for the next twenty years. Sister taught all the grades but her specialty was grade one. Her assignments were to the following places: Alpine; Carson City; St. Joseph, Bay City; St. Mary, Muskegon; and St. Mary, Saginaw.
In January 1949 thyroid surgery ended her teaching career. The surgery impaired her voice quality to the point that she was no longer able to project her voice. For one year, 1951-52, sister worked at the Religious Correspondence Office at St. John Home. All the years following that were to be in the medical profession. She spent two years at Nazareth Sanatorium in New Mexico as a lab assistant and then went to Mercy Hospital in Cadillac to train for her nursing profession.
Following her training in Cadillac, she served at the Marywood Infirmary for two years. She then joined the group of our first Dominicans to staff Guadalupe General Hospital at Santa Rosa, New Mexico. During her twelve years there she assisted in the delivery of many babies. She was known as a very conscientious nurse who never left a patient's room without making sure the patient was cared for and made as comfortable as possible. Part of her care of her patient was her conviction that the room itself be left looking clean and in perfect order. It was here at Santa Rosa that Sister also developed her skills in podiatry. A doctor there recognized her interest, aptitude and competency in this field and gave her basic training.
In 1967 she left Santa Rosa and came to Aquinata Hall as a staff nurse and a specialist in foot care. By 1976 her time was totally spent in podiatry, not only at Aquinata Hall but at the House of Studies as well. She also made herself available to the sisters on the missions who needed foot care. In nursing emergencies or when the staff was short handed, Sister quickly and competently stepped in to help.
Family ministry called Sister back to her home in Marinette in 1985. The Goyette family had several older members at home and Sister Gertrude Ann had been helping them. In 1985 it seemed apparent that Sister Francis Borgia's competencies were needed there, so Sister went to Marinette and became involved in family ministry.
Sister Francis Borgia was a very capable, gracious, conscientious, and hard working woman who was ever ready to help a sister in need. Her interests and hobbies were listening to classical music, knitting and making rosaries. Many sisters, relatives and friends were the glad recipients of her handiwork.
At the time of her Diamond Jubilee in 1990, Sister Francis Borgia wrote, "Blessed be God and His gifts, especially the gift of my Dominican vocation! Blessed be God for all His benefits, for you, my Sisters, friends, and for a full life as a Grand Rapids Dominican!"
In his letter of recommendation for her entering religious life in 1929, her pastor wrote: "May she be a blessing to Mother Church and a real asset to your Community." And this she surely was. She was a blessing to all who knew her, all who benefitted from her gentle nature and welcoming presence. She has been an asset to the community every day of her life and will continue to be so in Heaven. May she now know and experience to the full the loving embrace God.
Sister Francis Borgia is survived by several nieces and nephews as well as many friends and sisters in her Dominican Community.