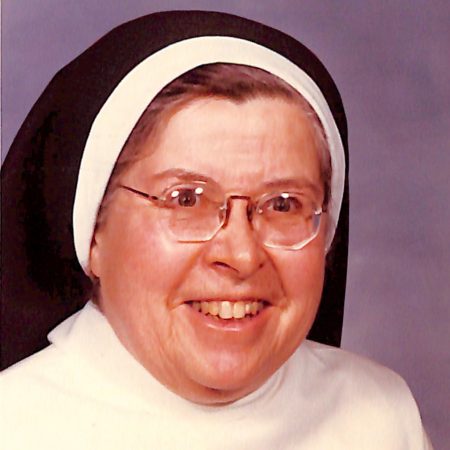 Sister
Faith Mahoney
Life Story & Obituary
April 22, 1917 – March 1, 1998
"Faith is seeing the will of God unfolding in mysterious ways."
So wrote Sister Faith Mahoney on the occasion of her golden jubilee in 1989. All her life she was Faith, and kept the faith and saw God's will unfolding in new ways.
She was born in Saginaw on April 22, 1917 and given the baptismal name of Faith Therese. Her father, Daniel, who worked in the lumber business, was the son of one of 12 brothers who had immigrated from Ireland. Her mother, Mary McDonald Mahoney, was formerly from Alpena. The family home was in Onaway, far north in the Lower Peninsula. Faith had two sisters, Lois and Roxie, and a brother, Daniel.
For four years Faith attended the parochial school of St. Paul, where the Grand Rapids Dominicans taught. Then a fire destroyed the school, so she finished her education in Onaway Public School, graduating in 1935. Then she attended the Presque Isle County Normal School, where the principal called her the most dependable student, 100% cooperative. She received a certificate to teach in rural schools, but did not use it at the time. Instead she worked first in a dime store and then as a secretary in the County Agricultural Agent's office.
God's will unfolded and led her to the Marywood postulancy in January 1939. The following August she became a novice, still keeping the name Faith. Her novitiate under Sister Fabian was her "most cherished year." After profession Sister Faith was sent to St. Anthony School, Grand Rapids in March 1941 as a substitute teacher. The next fall she was missioned to Lake Leelanau, but on December 6 (the day before Pearl Harbor) she was transferred to St. Mary, Hannah. From 1942-1957 she taught elementary and high school grades in Carson City, Hannah, back to Carson City and then at Marywood.
Sister Faith's undergraduate education was completed with a B.S. from Aquinas College in chemistry, mathematics, and physics. While teaching at Sacred Heart, Mt. Pleasant, she received a permanent certificate in secondary education, several National Science Foundation grants for study at Central Michigan University, and a General Electric summer scholarship for Case Institute, Cleveland, Ohio. She earned her M.S. in physical science from the University of Notre Dame.
In another unfolding of God's will, Sister Faith was called to serve the Dominican congregation as Syndica General, 1966-1977. During these years changes in religious life and the congregation were rampant. Whether her position was called Bursar, Financial Officer, or Financial Planner, Faith handled funds, coped with Social Security and Medicare regulations, supervised the PA system, the car co-coordinator, and motherhouse workers. True to the tradition of her predecessor, Sister Felix, she was familiar with all the pipes and machinery and could wield a hammer or wrench when necessary. During her time in office she served on the Board of Trustees of Nazareth Hospital and Aquinas College.
It was time for another unfolding. After a sabbatical year for study at Creighton University, Sister Faith moved to Saginaw. She taught for two years at St. Mary High and one year at St. Stephen, where she became coordinator of the Confirmation program. Her parish work continued when she went to Our Lady of Mt. Carmel as parish secretary and bookkeeper in 1981. Ten years later she became bookkeeper at SS. Simon and Jude Charismatic Parish.
Another unfolding occurred in 1992, when she moved to South Colony, a low income high rise, where she continued her ministry of presence to the elderly and to her family.
Short in stature, but long in dedication and determination, Sister Faith lived up to her early evaluation of 100% cooperation. She was a prayerful person whose favorite scriptural passage was "O the depth of the riches and wisdom and knowledge of God." She was also down-to-earth and loved carpentry, nature, camping, and traveling. One of her memorable trips was to Europe in 1984 with her two sisters and a niece.
Sister Faith had been experiencing health problems recently. Somewhat reluctantly, at the insistence of her niece, Sister Faith came to Grand Rapids on St. Valentine's Day. Two weeks later she was taken to St. Mary's Hospital. She was accompanied on her final journey by her sister Lois and members of her Dominican Family around her bedside. Her life was witness to her unspoken desire to serve right up to the very end.
Sister Faith is survived by her sister Mrs. Bert (Lois) Karow of Saginaw, MI; her sister-in-law Mrs. Dan (Joan) Mahoney, Ithaca, MI; her brother-in-law Donald Higgins, Saginaw, MI; nieces, nephews, and many friends.