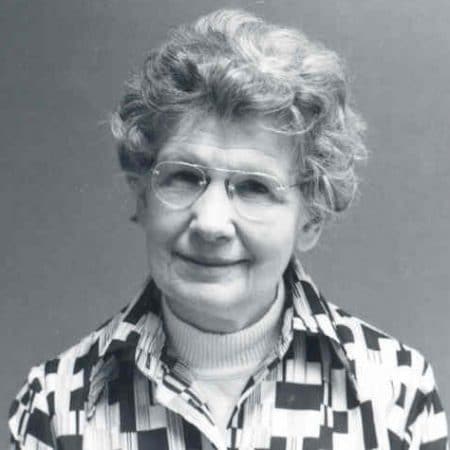 Sister
Dorothy Adams
Life Story & Obituary
August 17, 1912 – August 28, 1996
"I have moments when I grieve a little. . . but mostly I glow, especially when someone mentions that Marywood Dominicans are most attuned to the signs of the times. My favorite changes are bent toward ecumenism, preaching for Dominican women, and the way we now practice our true love of the poor."
On August 17,1912, Loretto Cahill Adams and Ralph L. Adams gave birth to their eldest daughter in Detroit, and named her Dorothy Loretto. Three siblings from her mother's previous marriage had already given this family a healthy start, and seven more to follow Dorothy would spread a lot of love within the family tree. Her baptism shortly after on September 1 at Holy Trinity Parish would begin her journey to her promised land. Indeed, there were many mini-migrations of the growing family for Dorothy, commonplace to the casual observer, but ever under the watchful design of her Creator. Family, friends, teachers, and finally a caring community, would fulfill the promise of the loving vigilance of God—like an eagle, whose eyes scanned her pathways, its wings ever ready to bear her up and away. All of this was unnoticed in an otherwise urbanized environment.
Irish through and through, her mother Loretto on at least one occasion made it emphatic that she had not married an Englishman, but a "Yankee." Yankee and Protestant, Ralph's devotion and care of his Catholic family gave ecumenism an early foothold. Dorothy's enrollment at age five in the primer class at Holy Trinity School was no foreshadowing of the inveterate reader she would become. Out of school with earaches most of the time effectively blocked her learning to read, and when the following September rolled around, a startled little girl found herself "not promoted!" Telling the family was problem enough; being the tallest of her class, she envisioned that she would never get to the coveted front seat. So, she stood her ground, until a stalemate was reached. "Learn to read" she must, and did. Her Mooney siblings took her to the public library, and Dorothy became the family pest in mastering new words. So was born the "bookworm."
The first grade was not, however, unmomentous. She received her First Communion and was confirmed the same day sans reading. Thereafter, her formal religious education was irregular and meager, as the family moved several times, and she attended successive public schools. The final move to Grand Rapids brought her to St. Francis Xavier School for the seventh grade, and then to St. Thomas School for grade eight. Detecting the germ of a religious vocation, Sister Johanna Doherty arranged for her to enroll at Marywood Academy for her ninth grade. It was then that Dorothy, befriended by Sister Estelle Hackett and Sister Evangeline O'Brien, recognized her calling. In June, 1928, she entered the novitiate, one of seven, all aged fifteen years. On February 12, 1929, Mother Eveline Mackey gave her the Dominican habit and the name Sister Judith of Our Lady of Victory. Two years later she pronounced her first vows to Mother Eveline. On September 1, 1937, she made her Final Profession to Mother Euphrasia Sullivan.
Accelerated study kept pace with religious formation in preparation for a lifetime of versatile service within the Dominican mission "to praise, to bless, to preach." The little worn 3×5 cards of her mission assignments span every grade level in every Michigan direction. With adult whimsy, she summed it up as being "promoted" nearly every year from Grade 1 through Grade 12. Whatever and wherever, her talents and determination met the challenges in obedience. A reflective love of study marked her own intellectual growth, and fired her to exacting like goals in her students. The gentleness and reticence of her exterior masked burning desires not always present in the young. Just as easily, she drifted back into what was her saving grace and refreshment. Most often, buried in a book , she found another world.
A bachelor's degree from Aquinas College was capped in 1961 by a Master's in English from Notre Dame University. An earlier certificate in Theology was bulwarked with subsequent studies. Later, in the wake of her long teaching career, she prepared herself as diligently for pastoral ministry. Working with adults and training volunteers she found most rewarding, and eventually difficult to relinquish. During her last teaching assignment at Bishop Borgess High in Detroit, and even during her work at the Archdiocesan Personnel Office, she taught religion unstintingly after hours.
Like the catechetical summer in Appalachian Kentucky, new experiences enlivened her. Similarly, the "open window" challenges of Vatican II invited her; their pursuit refreshed her. But she was not insensitive to the past. Significant of her personal renewal was her return in 1968 to her baptismal name of Dorothy. In 1968 a year as an exchange teacher at the Notre Dame Aspirancy in Mequon, Wisconsin introduced her to inter-community living and ministry.
Sister Dorothy came to the House of Studies in 1980 to serve the retirement needs of the resident older Sisters. When it closed, she moved with them to the renovated space of Marywood. A quiet ministry of neighborliness went beyond helpfulness to recreational cards and chess. Continuing her habit of reading, she became an avid participant in Sister Gervase Miller's study of Teilhard de Chardin, and upon Sister Gervase's death she facilitated the little group for several years. As the branches of the family tree grew fewer and closer, Sister Dorothy enjoyed spending time with them for small vacations.
Homeland beckoned, and the journey was closing. To paraphrase a hymn, God was there as always "to raise her up on eagle's wings, bear her on the breath of dawn . . . and hold her in the palm of His hand." May the angels lead you, Sister Dorothy, into paradise!
Sister Dorothy is survived by her sisters: Mrs. Joseph (Rosemary) Bernadotte, Plymouth, Michigan; Mrs. Milton (Veronica) Roth, Long Boat Key, Florida; Mrs. Harry (Rita) Smith, Venice, Florida; Mrs. Bernard (June) Schulte, Nokomis, Florida; nieces and nephews and many friends..