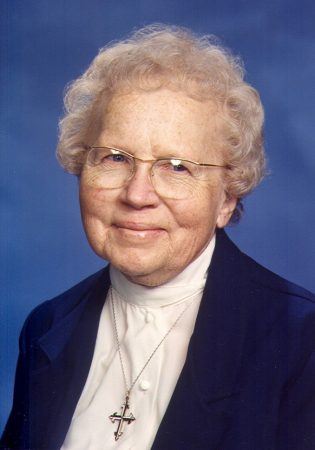 Sister
Donata Judis
Life Story & Obituary
May 1, 1917 – December 7, 2007
"I will instruct you and teach you the way to go. I will watch over you and be your advisor." This favorite quotation from Holy Scripture had been a lesson thus far in Sister Donata's life, and it continued to be her sure guide.
The five-mile Sunday wagon trip to Mass from the Judis home to the mission church of St. Bernard's in Irons, Michigan was rarely missed. Barring the occasional disappearance of the horses to pull the hay wagon, Father and Mother with all their growing family packed into their seats. In earlier diocesan practice, the priest drove in from Manistee. Both parents had emigrated from Lithuania and brought with them their native love of faith and ritual. Mother wasted no time in preparing them for the celebration to come, singing Lithuanian hymns from her youth. Later her children who entered religious life recognized those hymns as the psalms from the office book. Sometimes when the horses ran off, her brothers and sisters set out on the long walk to church, hoping for a ride both ways. When on one occasion Father Skowronski drove them home, he asked the typical vocation question. Promptly, Walter said he was going to be a priest, and Emily, mostly for want of something to say, replied that she was going to be a Sister, to which her sister Ugonna readily acceded. God did not seem to mind how the seeds got planted. They fell on good ground. There would be one priest, and eventually three Dominican Sisters from this family.
Dominick Judis and Kazimera Elijosious settled in Irons, MI after immigrating from Lithuania. Here in the rich farmland just west of Cadillac, MI, they raised ten children. Long before the modern term of "earth friendly" was coined, this family cherished life lived close to the soil, and surrounded by forests, streams and lakes. They grew to love their land and its abundant fruits. On May 1, 1917, Emily was born; she was to be the eldest of ten siblings. She was baptized on May 11, 1919 at St. Bernard's Church. All of the children attended the neighboring country grade school, walking the 2 ½ miles there and back each day. They were a close-knit farm family, dependent upon one another and happy in their blessedness. That serenity was sorely tried for Emily the year she began high school. A well-meaning Protestant family offered her father an opportunity for Emily. She would live with this family in Detroit in order to attend 9th grade, in exchange for working the weekends in the family business – a pie making enterprise. It was all too strange for the young Catholic girl from Irons. A neighboring woman introduced her to a convenient Catholic church where she found comfort in the familiar ritual of Mass and prayer. She attended regularly. Upon her return home in July, she found Walter ready to go to St. Joseph Seminary and her sister Ugonna preparing to enter the Dominican Aspirancy. "Why can't I?" she queried. Of course she could! That year, Dominick and Kasimera gave back to God their three oldest offspring. One more daughter would follow. "Silver and gold we have none, but what we have we give you."
In September 1934, Emily entered the Aspirancy in the tenth grade, and also Ugonna, in the ninth. In their kindly caregivers, Sister Edith Welzel and Sister Leonora Gallagher, they found much of their own mother's loving care and guidance. Emily would write later that she learned early "to be disillusioned about so-called perfectionism." The present was enough to be dealt with. Environmentally, it was a culture shock from small farm to city, but the Marywood berry patch was a place of solace. Sister Edith also found Emily an able helper in re-designing black cloaks into aspirant dresses.
After graduation Emily went home for the summer. She returned to the Dominican postulancy in mid-August and a new challenge in September at Catholic Junior College. On February 16, 1938, Mother Euphrasia Sullivan gave her the habit and the name Sister Donata of the Precious Blood. She made her First Profession on March 11, 1939. One month later, God called her mother to heaven.
Sister Donata's classroom adventures took her from Carson City to Belen; her first taste of New Mexico. For over 30 years, she taught primary grades at St. Boniface, Bay City; St. Joseph, Bay City; St. Anthony, Fisherville; St. Joseph, East Tawas; San Juan, New Mexico; St. Mary Magdalen, Melvindale; San Ignacio, New Mexico; St. Andrew's, Grand Rapids; and Sacred Heart, Mt. Pleasant.
Her diversity of talents served her well. In 1972, she began a ministry that took her to Weare, Lake Leelanau and Douglas. It was a fitting climax before turning her energies homeward to serve her Sisters.
"I grew up on a farm, and I know my food." Indeed, she did. It showed. She kneaded love into wholesome loaves of bread, and prepared nourishing meals for her Sisters. After serving at Marywood and Aquinas College convent, she spent a final thirteen years home-making at Sacred Heart Convent in Mount Pleasant. She delighted also in providing pastoral assistance by visiting the sick in the parish and at the Isabella County Medical Care Facility. The Catholic Daughters of America named her "Woman of the Year."
In 1993, Sister Donata left Mt. Pleasant for health reasons. After a summer's rest at the farm she was invited to retire to Aquinata. She was able to continue her pastoral ministry with the Sisters and also assist with sacristy work.
Homespun in her very fiber, this was no lady buried in the past. As the needs of the Church changed, so did she to meet them. She became a servant of the servants of God. As simple as that! But she always knew her food, the Eucharist!
Sister Donata is survived by her sisters, Sister Emeliana Judis, Sister Helen Jude of Grand Rapids; her brothers Msgr. Walter Jude, Jacob (Lorraine) Judis of Irons, Stanley (Patricia) Judis of Howard City, her sister-in-law, Caroline Judis of Muskegon; nieces, nephews, many friends and Sisters in our Dominican Community.