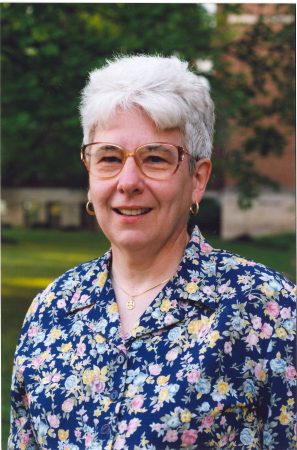 Sister
Diane Hofman
Life Story & Obituary
September 24, 1945 – May 10, 2009
At the time of her Silver Jubilee Sister Diane wrote: "The most inspirational gift I have experienced in my Dominican vocation is the awesome talent, holiness and dedication I have seen in this community. I have shared sorrows, but I have also shared many joys."
Like St. Joseph, her favorite saint, Diane Hofman worked quietly, shunned the limelight, was noted for just dealings, and was a good carpenter. Like a true Dominican she was devoted to prayer, study and sharing her knowledge.
Diane was born in Detroit, Michigan September 24, 1945, but lived most of her childhood in Caseville in the thumb area of Michigan. She was the daughter of Baldwin and Mary Hofman and had two brothers. Her grade school education was at St. John Berchman, Detroit and the Caseville public schools. Her contact with the Grand Rapids Dominicans came through the influence of her pastor, Father Robert G. Navarre. One summer he introduced her to three Dominicans who were vacationing in Caseville. She and her mother gave them rides to weekday masses. The Sisters, especially Sister Vincent Ferrer, made a great impression on Diane. After two years at Caseville High she transferred to Marywood Academy as an aspirant.
Diane became a postulant September 8, 1963 and the following May was received as a novice with the name of Sister Paul Joseph. After first vows she resided at the House of Studies and earned a bachelor's degree from Aquinas College in 1967. Her teaching experience began during this time when on Saturdays she worked with inner-city high school girls.
As Sister Paul Joseph in 1967 she began a life-long ministry of education with a year in New Mexico, serving at Nativity of BVM and Ranchos de Taos. This gave her a love for working with families who lived in poverty. Next, after resuming her baptismal name, she taught at St. Francis, Traverse City Michigan on the junior high level. When that school merged with Immaculate Conception she taught in the middle school. Her summers were spent studying at Central Michigan University where she earned a Master's Degree in Education.
In 1974 Sister Diane began many years of service at St. John's, Essexville, Michigan (1974–1996). After two years teaching on the junior high level she became the principal. She worked well with children and adults and people enjoyed working with her. In 1996 she went from St. John's, where almost 99% of the students were Catholic, to Francis Reh Academy, Saginaw, Michigan, a charter school where only 17% were Catholic. Francis Reh Public School Academy is a free public charter school serving grades K-8. Most of the children are from single-parent or extended-family homes. Fund-raising became an important part of Sister Diane's job. Her goals were to enhance the school's endowment, maintain the curriculum, and upgrade computer technology.
Never one to exalt her own accomplishments, Sister Diane repeatedly won the Shining Star Award given to schools with high levels of excellence on achieving the charter school requirements. Because her position required year-round service, she usually was prevented from joining the community during Dominican Days. She participated actively in Area 2 events and often served as secretary at meetings.
Though a quiet person, Sister Diane liked serious conversations. A favorite saying of hers was, "Make sure brain is engaged before putting mouth in gear." She enjoyed reading, refinishing furniture, crafts, woodworking, planning liturgies, jigsaw puzzles, and doodling. After her father's death her mother and brothers moved to Arizona. Sister Diane made annual visits there and delighted in dirt bike rides on trails and up mountains. In Michigan she enjoyed going to a cabin in the woods, building fires in a fireplace, and growing roses. She frequently surfed the internet for more and better ways to enhance her rose-growing skills.
In 2007 after a lifetime during which she never took medications, Sister Diane discovered she had inoperable cancer. For the next two years she courageously endured treatments to slow the disease and continued to work at the school a few hours each week. When it finally became apparent that she needed to end her work, she did so with great satisfaction for a job well done. She held the Leona Group, the Academy's management company, in high esteem. Their support and affirmation kept her going through many difficult days.
Finally, Sister Diane agreed to return to her home at Marywood where old friends and classmates enjoyed brief visits with her at the Marywood Health Center. On May 10, 2009, surrounded by her friends in community, she returned home to God, greeted no doubt by Saint Joseph the Carpenter with whom she had maintained a life-long relationship.
Sister Diane is survived by her mother Mary and brothers Dean and David Hofman of Phoenix, Arizona, as well as many friends and sisters in her Dominican Community.