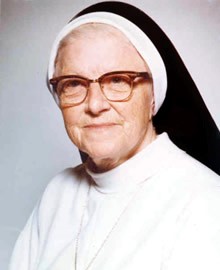 Sister
Cyrinus Reitzel Strauss
Life Story & Obituary
February 19, 1898 – October 27, 1991
On October 27 Sister Cyrinus' final fiat and Our Blessed Mother's "My soul proclaims the greatness of the Lord" (Sister Cyrinus' favorite biblical prayer) took on a new and special meaning when at last Sister Cyrinus beheld her God face to face.
Sister Cyrinus' long life with its joys and sorrows was now totally in God's eternal keeping.
When Sister Cyrinus wrote the autobiographical sketch of her life many years ago, she dedicated part of it to Our Blessed Mother "Cause of Our Joy" and the other part to "Our Lady of Sorrows". Truly Sister Cyrinus' life was a dual mixture of joys and sorrows that beautifully intermingled and blended in a life that was so saintly and in God's hands. She who thought her life was so ordinary had in God's eternal plan a very extraordinary life.
Sister Cyrinus was the second youngest of twelve children born to John and Elizabeth Reitzel Strauss in Mancelona, Michigan on February 19, 1898. Three of the children died very young and that left Sister Cyrinus the only girl with eight brothers. She was baptized on April 17, 1898 at St. Anthony Church, Mancelona. Sister Cyrinus tells that the reason her Baptism was delayed was that they had Mass only once a month and the snow was so deep it was impossible to take her to church. But the day was worth waiting for as she received three names: Catharine Maria Julia! However, she was known by Julia.
At the age of twelve, Julia made her First Holy Communion which next to the day of her Reception of the Habit, she recalls as the happiest day of her life. Well did she remember the three-day retreat preceding the event and how her dear mother spoke to her concerning the great King who was coming to dwell in her for the first time. Julia had felt a great desire to become a Sister years before this, but on that day it was one of the many favors she asked of our Lord, and from then on her desire took on a new depth and meaning. A year later Julia was confirmed by the Most Reverend H. J. Richter.
Julia's home life on the farm was a very happy one where there was much love. Julia relates that early in her life she was a "spoiled child" but with the love and teasing of eight brothers that was quite natural. She and her father became great pals, and she loved to help him in the fields. She especially recalls her saintly mother instilling a great devotion to Our Blessed Mother in all of the family.
Her early education was in the country school near her home. When she was thirteen, four Grand Rapids Dominican Sisters opened St. Anthony School at Mancelona, and she was able to attend it for two years. At fifteen she wanted to enter the Convent, but Sister Raphael O'Rourke counseled her to wait. Then, too, her parents would not give their consent. At eighteen Julia and her brother Ed went to Detroit to work, and shortly after he entered the Brothers of Mary in March, Julia returned to Mancelona. Happily her parents gave their consent for Julia to enter the Convent.
It was on September 8, 1917 that Julia entered the Community at St. John Home. On March 7, 1918, at the age of twenty, she was clothed in the habit of St. Dominic, and given the name of Sister Cyrinus of St. Francis of Assisi. On August 4, 1921, Sister Cyrinus made her First Profession of Vows to Mother Benedicta O'Rourke, the Prioress General.
Sister Cyrinus' apostolate in the Community for sixty years was that of teaching on the early elementary level. Her teaching days took her to many schools in Michigan, but her longest years of service were at St. Anne, Alpena; St. Joseph, Saginaw; Visitation, North Dorr; St. Mary, Charlevoix; St. Andrew, Grand Rapids; and at St. Francis, Traverse City where she spent a total of twenty-one years at two different time intervals.
Sister was a fantastic teacher and especially so in her ability to teach religion and prepare children for their First Holy Communion. In her life time she prepared hundreds of children for their First Holy Communion not only in schools but in her summer apostolate. Sister Cyrinus loved her God and Our Blessed Mother and this love was effusive with all with whom she came in contact, but, especially so, in her work with children. Words of high praise for her work with First Communicants came from the long-time Pastor at St. Francis, Father Joseph Kohler, who himself was a teacher par excellence.
During her second time at Traverse City, when she was no longer able to take full-time classroom duty, she continued teaching religion to the children in the first grade. One of the devotions she taught them was how to pray the Rosary. Each time a child could do this, he or she was given a handmade Rosary.
In a sense Sister Cyrinus' life and work were a paradox. She battled with illness all her life from the time she was four years old. Her trips to doctors and hospitals and her surgeries were numerous enough to thwart the courage of the strong and yet her comebacks were phenomenal. Surely her religious name and title were significant in their implications.
However, it was not only in the classroom that Sister Cyrinus radiated goodness, kindness, gentility, and love. She brought joy to her Sister companions and all those with whom she came in contact. Even as a patient at the hospital, she so endeared herself to the nurses that they were reluctant to see her dismissed. She continued to receive letters and visits from her former pupils even when she was at Aquinata Hall.
In 1980 when Sister's active years terminated, she was at St. Francis, Traverse City, and very appropriately a Retirement Party and Reception were given in her honor. She then came to the House of Studies where she had more leisure time for some of the hobbies she enjoyed: making Rosaries, reading, raising plants, crocheting, tatting, and crafts. In August 1984, Aquinata Hall became her home and here she was able to do many things for herself. She loved the companionship of the Sisters, and she was especially happy to have more quiet time to enjoy reading and studying the Bible.
Sister Cyrinus, your sufferings are now over. May the words from the prophet Daniel, "And those who lead the many to justice shall be like the stars forever," be a reality for you. Rest in God's unending love, peace, and joy and celebrate with our Blessed Mother and all the Saints in Glory.
Sister Cyrinus is survived by her brother and sister-in-law David and Margaret Strauss of Traverse City, several nieces, nephews, cousins and many friends.