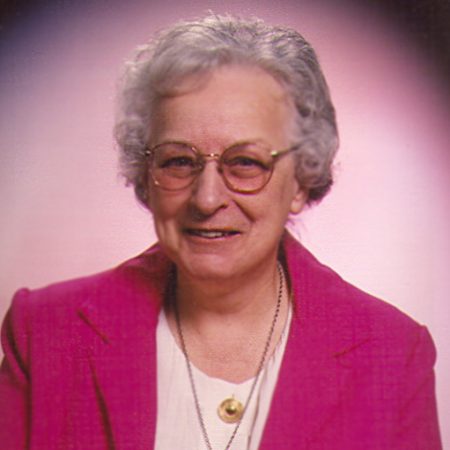 Sister
Charlotte Schaub
Life Story & Obituary
March 10, 1930 – July 23, 2006
"The Spirit of the Lord has been given to me, for He has anointed me; He sent me to bring good news to the poor, to proclaim liberty to captives and to the blind new sight; to set the downtrodden free." Luke 4: 18-19
That was how Sister Charlotte Schaub saw and practiced her vocation.
Charlotte's vocation was the fulfillment of prayers made before her birth, March 10, 1930, in Lake Leelanau. She was one of five children of Louis and Theresa Popp Schaub. Her mother had three sisters in the Grand Rapids Dominicans: Sisters Joseph Ann, Cecelia, and Eileen Popp. Her father had one sister in the community, the first Sr. Ottilia. Charlotte's mother asked Sister Joseph Ann to pray to the Sacred Heart to choose at least one of her children to be a religious. The answer: two of the three girls, Charlotte and Ottilia, entered religious life.
Charlotte enjoyed her childhood, a time of games interspersed with work on the family farm. "The lake, the moon glistening on its shimmering waters, the millions of red cherries hanging from the trees, filled me with wonder and delight. In winter the beauties of God's creation were seen in snow-weighted evergreens in our yard, in every icicle hanging from the roof." Charlotte studied both piano and violin under Sister Denise. Her musical training served her well. During her last two years of high school, she was accompanist on the organ for the high school choir and on alternate Sundays the grade school choir. Additionally, Charlotte's father taught her how to drive on a Model A Ford car. Later, in the community, she frequently was assigned to missions that needed an organist, a driver or both.
The Grand Rapids Dominicans were her teachers for twelve years at St. Mary School in Lake Leelanau. There she was active in 4-H clubs and was awarded a scholarship to Michigan State University to prepare to be a county Home Demonstration Agent. She declined this opportunity in order to enter the congregation.
On September 8, 1948 Charlotte came to Marywood. The name she took at reception and kept until Vatican II, Sister Louis Therese of the Sacred Heart, honored her parents. Between 1950 and 1968, she taught middle and upper grades at Blessed Sacrament, Grand Rapids; Holy Trinity, Alpine; Beaver Island; Santa Cruz, NM; St. Mary, Kingsley; St. Mary Magdalen, Melvindale; and St. Joseph, Weare. In addition to teaching, she was parish organist and choir director.
In 1968 Charlotte began a new form of ministry as coordinator of religious education in Suttons Bay and then in Weare Township. She was noted in Pentwater for her ecumenical work among four churches—Methodist, Episcopal, Baptist, and Catholic. In 1975 she became Religious Education Consultant for the Grand Rapids Diocese, covering five counties. Her pastoral ministry took her to All Saints, Fremont; to the sick at Aquinata; and to St. Jude, Grand Rapids. In 1988 she was religious education director at Our Lady of Grace, Muskegon Heights.
Charlotte earned a B.A. from Aquinas College and a master's in religious education from the Aquinas Institute of Religious Studies. She did post-graduate study in scripture and theology at Aquinas Institute of Theology, Dubuque. Studies in British Columbia and Ontario also furthered her knowledge of Scriptures and spirituality.
At the time of her silver jubilee she wrote: "To be a Dominican is to be a woman in a religious community who ministers to the needs of the poor – intellectual, physical, emotional and spiritual needs." In 1970, Charlotte wrote: "My greatest interest and personal growth in holiness was when I became an active participant in the Charismatic Renewal in 1970."
Her hobbies and interests were music, Bible study, reading, gourmet cooking, and sewing. She enjoyed travel and pilgrimages and recalled her experience in the Holy Land. "There I walked in the footsteps of Jesus, saw where He ministered, and relived Gospel moments."
In 1991, as part of a sabbatical, Charlotte spent two months studying Spanish at the International Language School in Cuernavaca, Mexico in preparation for her work with Hispanic peoples – a special interest of hers. The next five years she did pastoral ministry at Santa Cruz, New Mexico. This was to be her last full-time ministry. In 1996 she came to Marywood because of health problems. While at Marywood, she volunteered in teaching Adult Religious Education and Scripture classes at a number of parishes.
In January 2005 Charlotte suffered renal failure but continued to facilitate a Scripture discussion group at Blessed Sacrament parish until May. At that time she underwent heart bypass surgery. Complications from surgery resulted in extended hospital stays and lengthy rehabilitation. She came to Marywood Health Center in August 2005.
Her sister Theresa remembers her as a "fun loving person with a vigorous approach to life." She had a great desire to live and to serve with every ounce of strength and life in her. Gradually, she came to accept her physical diminishment. And so it was that on Sunday, July 23, 2006, surrounded by those she loved and who loved her, Sr. Charlotte Schaub entered eternal life.
Sr. Charlotte is survived by her sisters; Theresa Schaub of Lake Leelanau; Sr. Ottilia Schaub of Grand Rapids; her brothers Louis (Judy) Schaub of Grand Rapids; Francis (Jean) Schaub of Lake Leelanau; her aunt Sr. Eileen Popp of Grand Rapids and uncle Arthur Popp of Otsego; nieces, nephews, many friends and a loving Community.