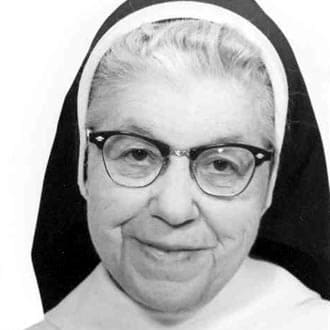 Sister
Catherine Emmendorfer
Life Story & Obituary
October 20, 1903 – April 3, 1998
"God called me to live a consecrated life of prayer in community."
This statement from a recent autobiographical sketch of Sister Catherine Emmendorfer expresses the key to her happy religious life. Prayer and community life were the two hinges on which her life revolved, and they became the source of her untiring, dedicated, and fruitful apostolic life. Indeed, fittingly she exclaimed with the psalmist, "How wonderful and pleasant it is to live together in community!" (Ps. 133)
Sister Catherine's blessings began with her birth into a wonderful Christian home on October 20, 1903 when she became the ninth child born to Martin and Elizabeth Emmendorfer at Maple Grove, Michigan. There were fourteen children in the family – eight boys and six girls. Just a few days after her birth, she received the sacred waters of Baptism at the parish church of St. Michael at Maple Grove and the name of Catherine Anne.
In a very early autobiography, Sister Catherine has a lovely description of her early family life. She wrote, "In my infancy just as soon as I learned to speak I was taught to say prayers. One sweet memory which I love to think about is how I used to kneel with my sisters and brothers at my mother's knee, each waiting a turn to say aloud the prayers she taught us to say. Then we would skip off to bed and call back as we ascended the stairs, 'Good night, ma, good night, pa; praise be Jesus Christ.' This we would keep repeating until mother and dad both answered, 'Now and forever, Amen.'" Many were the lessons in prayer Catherine continued to learn from her dear mother.
When Catherine was seven, she started school with Sister Carmelita Dutmers as her first teacher. How she loved the Sisters and wanted to be one of them! This was a desire she had as long as she could remember. At twelve she accompanied her mother to church for Forty Hours Devotion and at that time she experienced God's call to religious life in a very special way, and she remembers praying, "I'm going to be a Sister – and nothing can ever stop me." This remained her secret with God until at sixteen she chose the Feast of St. Catherine of Siena to share her intent with her parents, but she respected their wishes that she not enter until she was seventeen.
September 7, 1921 was the day for the "big trip" to Grand Rapids! The Emmendorfers, who owned a car, drove to Owosso so that Catherine and Louise Knieper (Sister Frederica) could take the train to Grand Rapids. The parents of each of the girls accompanied them. Courageously, when they arrived in Grand Rapids, Catherine and Louise walked from the train station to St. John's Home. Fortunately their trunks were to follow with most of their belongings.
Sister Albertina Selhuber and (later Sister Loyola Finn) was the novice mistress who continued the training for which Catherine's mother had already laid such a solid foundation. On March 7, 1922 Catherine received the Holy Habit of St. Dominic and name of Sister Louis Bertrand of the Blessed Virgin, a name by which she was known until 1967 when she returned to her Baptismal name. For Sister Louis Bertrand the happiest day of her life was on April 22, 1924 when she made her First Profession of Vows to Mother Benedicta O'Rourke at Marywood which had become the Motherhouse in 1922.
Before long, Sister Catherine wholeheartedly became involved in the community's teaching apostolate, and for over sixty years she served in the Catholic schools of Michigan as a teacher (fifty-three years), as a librarian (five years), and as a tutor (four years). Most of her teaching was on the junior high level. For the majority of her teaching years, she had the added responsibility of administration. She regarded as "her best years" those in rural districts even though this often meant teaching four grades. The schools/places that were the recipients of Sister's excellent teaching and administration were the following: St. John Home, St. Joseph, and St. Stephen, Grand Rapids; St. Mary, Muskegon; Wright; St. Joseph, Bay City; Suttons Bay; North Dorr; St. Josaphat and St. Mary, Saginaw; St. Mary Magdalen, Melvindale; Beal City; Lowell; Chesaning; Our Lady of Grace, Dearborn Heights; and Mt. Pleasant.
Sister's special love was gardening. She stated, "Digging away into the soil, invigorates me and gives me a new lease on life. 'You just can't take the farmer out of Johnny (Katie).'" She also enjoyed crocheting and cro-knitting.
In 1983 when mission life terminated for Sister Catherine, Marywood became her home, and she was so happy to participate in the prayer life and the liturgical functions there. She was helpful in so many ways. One of her main duties, which she did so faithfully, was the addressing of all the birthday cards to our Sisters both at Marywood and those living alone on missions. In June 1988 she asked to become a resident at Aquinata Hall and there by her gracious presence and faithfulness to prayer, she continued to witness to God's enduring love.
In reflecting on her religious life Sister Catherine commented, "My convent life has been one of joy, peace, and contentment, and I would be ungrateful indeed if I were to allow one day to pass into Eternity without saying, 'Deo Gratias'. All my life I have considered my Dominican vocation a blessing and special gift from God."
Sister's life has been a rich blessing for our community, and we are grateful for her long, fruitful, amiable, and generous life. One of her last messages was the following, "I want to be remembered as a 'happy Sister' in love with her God." Surely the cherished memories of her beautiful, pleasant, and gentle disposition are now our treasure.
Sister Catherine is survived by her sisters Mrs. Martha Birchmeier; Mr. & Mrs. Norbert (Marcella) Wendling of New Lothrop; Mrs. Lucina Wendling of Montrose; her sisters-in-law Mrs. Nathalia Emmendorfer of Chesaning; Mrs. Hilda Emmendorfer of New Lothrop; her niece, Sister Josephine Mary Birchmeier, OP; several other nieces and nephews; and many friends.