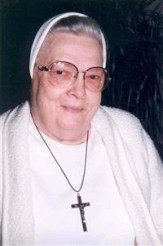 Sister
Bernice Botwinski
Life Story & Obituary
April 21, 1921 – April 20, 2002
"What joy and peace is mine . . . believing that the smaller I become, the greater my good Lord becomes."
Her words of later life emerge from a lifetime effort to parallel the words of Paul: "He must increase, I must decrease." Sister Bernice Botwinski left us only these few words to reveal the buried treasure of her desires. Otherwise, her recorded wishes were that her going might not be memorialized. Her loving family, community, friends and beneficiaries, however, know that she, like all of us, leave more than our "footprints on the sands of time."
Sister Bernice Botwinski was baptized Bronislaia on May 1, 1921 at Sacred Heart Parish in Grand Rapids. Both her parents, Bert Botwinski and Sophie Popko, were immigrants from Poland. Bernice, as she came to be known, was the seventh child of nine living children. She was born on April 21, 1921. "In time for mischief" summed up her memories of growing up. It could not have precluded some time for play, but we can be sure it followed work, and was all the more appreciated. How else can one explain her zest in later life for a good time?
At the age of eight she began school at Sacred Heart. The Sisters of Notre Dame were her earliest influences for religious life, although the groundwork of her faith lay in her family heritage. The Sisters advised her to attend high school first. Father Kuras her pastor, however, took a dim view of her enrollment at a public high school, and hastily arranged for her transfer to Catholic Central. A brief interest in the Franciscan Sisters of Lafayette, Indiana ended when her new Dominican teachers introduced her to Mother Euphrasia Sullivan. She was admitted to the Aspirancy in September 1938. After graduating from Marywood Academy, Bernice entered the postulate in September 1940. On August 18, 1941 she received the Dominican habit and added the title of the Immaculate Conception to her name. A year later she made her first profession and on August 19, 1945 sealed her covenant with God for life.
That life first found ready and able service in early elementary education in Saginaw and Grand Rapids diocesan schools, principally at St. Casimir's and St. Josaphat's of Saginaw, and at St. Alphonsus and St. Andrew's in Grand Rapids. Companion teachers of those early days remember her as "a good teacher…conscientious…liked nice things in her classroom, so worked the harder to have them…friendly…accommodating and helpful to her peers..set high standards…a hard worker, but liked fun…loved to put on programs." Put it all together, there was never any time for mischief. It was, in fact, only typical of the devotion that powered big classrooms on too small of budgets. Her years of teaching were punctuated by recurrent bouts of illness, a pattern that described her future, and seemed to thwart her efforts and plans. The Divine Potter was ever at work molding and remolding the earthen vessel of His creation.
When illness brought an end to twenty-five years in classroom ministry, Sister Bernice's organization skills and her artistic excursions into craft and homemaking arts became a community service to her Sisters for many years. The Marywood Christmas Boutique of 1977 made local news and a neat profit, and set an example for similar projects.
Ever devoted to the Mother of God, a highlight of Sister's life was a pilgrimage to the Marian Shrines of Europe. Memories of Lourdes, Fatima and Rome remained her treasures to enrich her autumn years of prayer. In full circle, her early ministry of the classroom became her final ministry–to pray for schools.
On Saturday, April 20, 2002 the Divine Crafter claimed the earthen vessel of Sister Bernice's life. A life fulfilled! "The smaller I become, the greater my good God becomes."