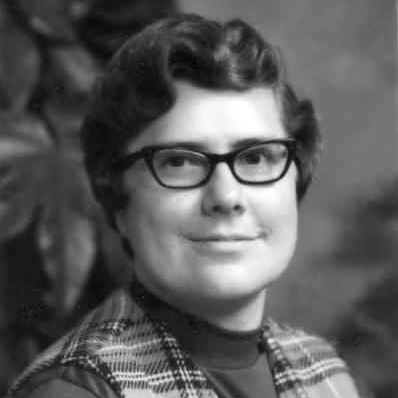 Sister
Barbara Ann Seymour
Life Story & Obituary
February 14, 1929 – August 9, 1994
"I have called you by your name, you are mine." - Isaiah 43:1
A dynamo of service to the Church and world has gone ahead of us. Sister Barbara Ann Seymour said life for her, "has never been dull…many times very challenging, but always accepted as a means of growing . . . always opportunities to share the Good News." Already, she is part of that Good News.
Educator for all seasons of the twentieth century, Sister Barbara Ann believed in Catholic Education as "absolutely necessary." She stated this emphatically while superintendent of Manistee Catholic Central. Indeed, she was then at the acme of her thirty-five years of teaching and administration. Yet, in 1984 she read the signs of the times and turned her talents to pastoral service. "Too few priests," she wrote, defending her conviction that Sisters like herself should work with them, and leave the schools to competent lay educators. Whereupon, she gave her remaining energies and retooled talents to pastoral care. Those gifts had been honed to precision by widespread experiences along the way as elementary teacher, principal and superintendent across Michigan from isolated and laid-back Beaver Island to the inner city of the 60's. The span of her activities in changing circumstances was matched with dedicated resolve and ability. The public and her peers knew the daring exterior bent on goals; more and more of her friends came to know a heart tender and compliant. Paradoxically, a Woman for all Seasons! Her favorite gem from Scripture–"I have called you by your name, you are mine" — has called to her from start to finish.
Barbara Jean Seymour was born in Pontiac, Michigan on February 14, 1929 to Catherine McCormick and George Lynn Seymour. She was christened March 3, 1929 at St. Vincent de Paul Parish–perhaps a harbinger of her mission to the poor and needy. The oldest of six children, seniority gave her early responsibilities. Moving to Fremont, Michigan, Barbara attended public school for the first six grades. The father's occupation as a truck driver took him away from home for a considerable amount of time and Barbara's mother learned early on to depend on the help of her capable daughter.
The move to Muskegon to St. Mary Parish brought Barbara to her first and lasting contact with the Dominican Sisters. The yearbook of her graduation in 1947 shows her busily involved in clubs, the Sodality, the sports program, student government, the Arts and the lighter side of school life. Teachers, in short supply as usual, reveled in her responsibility. Of the four Dominican Sisters on the staff, vigorous Sister Redempta Karl was her role model.
In September of that year, Barbara entered the novitiate, and on March 11, 1948 she received the Dominican habit and her name Sister Barbara Ann of the Blessed Sacrament. A year later, she pronounced her First Vows and stepped out into the mission field. On August 15, 1952, she made her Final Profession. The wholesome all-American girl brought fresh gifts to Dominican life, womanhood and educational leadership.
A year or two in teaching each succeeding grade level built up an experience soon recognized. In 1966, her future in administration began at St. Gregory School in Hart. She had already tasted the Northern outposts at Lake Leelanau and Beaver Island. The city-girl proved game for all the different challenges. Adaptability was a part of her, so she appreciated every new cultural aspect, every new student, every new convent companion. The 60's lead her to the inner city. From 1963 through 1971, her special charism was called into play for the poor and disadvantaged at Sacred Heart School in Saginaw. Her co-workers recall how unstinting and unrelenting was her concern for both students and staff. As she called forth the best efforts and potential of her teachers, she made a matching effort to create the environment for their success. Not satisfied with her own discoveries, she encouraged them to take one day a month to observe creativity in another school. One remembers her thoughtfulness in relieving classroom teachers from playground duty.
The same kinds of concern carried over into her succeeding work at Bay City, St. Joseph Elementary School, subsequently to her dual role as principal and superintendent of Manistee Catholic Central, and even later at the helm of St. Margaret Mary School in Otsego, Michigan. Everywhere, she tilled the soil for Catholic Education, so firmly did she espouse it. Nevertheless, a few years later she saw another road diverging and chose to follow it. From 1984 on, Sister Barbara Ann joined her friend, Sister Lisa Marie Lazio in religious education and pastoral work at both St. Mary Parish in Charlevoix and Resurrection of the Lord Parish in Standish. These efforts crowned her zeal. In them she invested the last full measure of herself.
A survivor of previous health crises, she had persevering confidence in the power of prayer to overcome new ravages, and like a warrior accepted the battle. The prayers of her caring family, the Sisters, and especially the prayers of "the little children" would be her artillery.
So close to family, so close to community, so close to God's people — SO CLOSE TO GOD! She heard him a last time, "I have called you, you are mine, I will bring you home." Sister Barbara Ann left us for heaven on August 9, 1994.
---
Sister Barbara Ann is survived by her sisters, Mrs. Paul (Patricia) Larson, Mrs. James (Leah Rae) Morse; her brothers Richard Seymour and George Seymour, all of Muskegon; her sister Mrs. Mary Lou Murray of St. Joseph, Michigan; nieces, nephews, great-nieces, great-nephews and many friends.