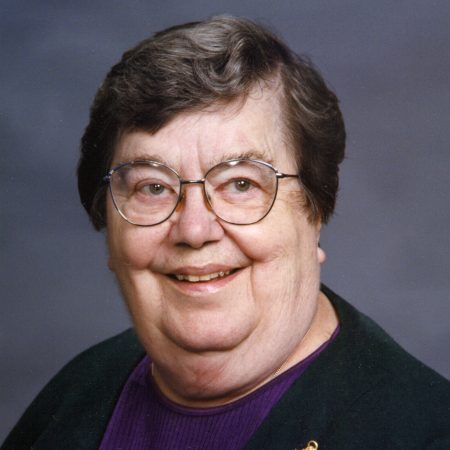 Sister
Ann Frederick Heiskell
Life Story & Obituary
1918 – August 24, 2005
"God is in charge and, given the freedom He needs, He will bring all things to Himself." This is the wisdom Sister Ann Frederick Heiskell learned from experience and expressed at the end of her autobiographical essay, "The Hem of His Garment."
For her first thirty years, Elaine Powell Heiskell lived at Kildare, a large country estate in Prince George's County, Maryland. She was the first of three daughters in her father's second family and had three older sisters and a brother, not to mention the extended family of aunts, cousins, and visiting priests who came to offer Mass in the nearby mission church.
Elaine's education began with four years of tutoring by her mother which qualified her to enter sixth grade at St. Cecelia Academy, six blocks from the national Capitol. Graduating as salutatorian, she enrolled in George Washington University and earned a junior college certificate. After attending Temple Business School she worked as a secretary from 1938 to 1946. Then, she returned to college, this time at Dunbarton College, where she graduated with a major in English and minors in French and philosophy.
For years, Elaine had struggled with the question of a religious vocation and deep in her heart made a promise, "Lord, I will become a nun when I am thirty." She kept that promise. Her pathway to far-off Grand Rapids was shown by Sister Jane Marie Murray, who was in Washington writing religion textbooks. In October of 1948, Elaine entered at Marywood and at Reception took the name of Sister Ann Frederick.
After First Vows in June of 1950, she spent a year teaching (without preparation) at St. Joseph High, Muskegon, which she called "barely short of a disaster." Next, for two years she was stationed at Aquinas College as secretary to the Dean, Sister Mildred Hawkins. Then, with coaching by Sister Agnes Clare Thiel, she returned to high school teaching at SS. Peter & Paul, Saginaw; Catholic Central, Muskegon; Catholic Central, Alpena; and St. Joseph, Saginaw. During summers she studied at Western Michigan University, receiving her master's degree in library science.
In 1961, Sister Ann Frederick began a new apostolate as circulation librarian and audio-visual coordinator at Aquinas College. This was interrupted in 1962 by the accident that took the lives of five sisters from St. John's, Essexville. For a year she served as a replacement there. Back at her position in the Aquinas library, she also taught a popular class in Literature for Young Adults and helped to promote the study of motion pictures.
The time between 1967 and 1977 was, in Sister Ann Frederick's words, "the Rip Van Winkle years." They were marked by emotional turmoil, partial recovery, and relapses. After nine hospitalizations in Michigan and New Mexico, she recovered sufficiently to work part time in religious education at Our Lady of Sorrows, Las Vegas, NM (1977-80). She later expressed her gratitude for the prayers and support of friends in the community, her family, parish priests in New Mexico, and the Abbot of Pecos Monastery, who were instrumental in her recovery.
Returning to Michigan in 1980, Sister Ann Frederick served as librarian for St. Joseph School, Kalamazoo. From 1982 to 1990 she ministered in the religious education program at St. Augustine Cathedral parish. In his evaluation, the rector called her a "woman of God, constantly witnessing to her relationship with God and to the vast difference between his values and ours . . . I have never seen anyone so aware of Christ's presence in the Eucharist nor with her ability to share this with children in a way that they perceived her experience and wanted it for themselves."
During her solo living in Kalamazoo, Sister Ann Frederick longed for community and was overjoyed to come home to Marywood in 1990. There she served as a receptionist in the East Wing, member of the Library and Corporate Responsibility Committees, and secretary for social concerns to the Prioress and Council. In the last capacity, she wrote 25 to 30 letters per month to the President, members of Congress and the Cabinet.
Many-talented, versatile, generous, gregarious, "Fritzie" was a lover of music and free-flowing conversation. She was an accomplished seamstress and calligrapher and a self-styled readaholic. She often delighted those who lived with her by organizing a social gathering or video showing or by whipping up a batch of her special fudge.
Illness necessitated her move to Aquinata Hall in 1998. There she often read to a group of other residents. She was among the first patients who made the move to the Marywood Health Center. Even on her final day she was active and died unexpectedly during the night. Now she is with the Healer, the hem of whose garment she touched.
Sr. Ann Frederick is survived by her sister Nancy Heiskell Clark; nieces, nephews, many friends and a loving Community.